Agilent 8714ES Network Analyzer Review
The Agilent 8714ES network analyzer is designed to provide engineers and technicians with a test solution that offers increased productivity, speed and accuracy. In addition to delivering exceptional performance, this capable network analyzer is optimized to reduce test times and is an ideal solution for testing typical RF components like amplifiers, antennas, filters, distribution amplifiers, mixers, cables, and CATV taps.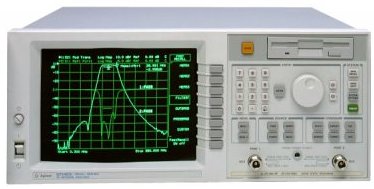 Engineered for high-volume manufacturing, the 8714ES is known for its reliability and offers a impressive combination of high-performance features. The 3 GHz model is available in both 75-ohm and 50-ohm versions. Apart from manual testing applications, the network analyzer is also suitable for automated-test environments, and is code-compatible with its earlier versions to enable users to reuse their existing test software.
S-Parameter Measurement
The S-parameter measurement capability makes the 8714ES an excellent choice for many of today's testing demands. This capability boosts its accuracy and convenience making it more adaptable for challenging testing requirements. An S-parameter network analyzer allows the user to measure both reverse and forward characteristics without having to reconnect them to change terminals. Additionally, this functionality will give technicians the ability to obtain the best measurement accuracy in demanding test environments. The S-parameter measurement capability also enables operators to select the optimum performance levels depending on the specific application. Other powerful embedded features in this model include advanced vector-error correction, internal disk drive, high-dynamic-range narrowband receivers, high-dynamic-range broadband receivers, instrument BASIC (IBASIC), large display, and LAN capability.
Learn more about Scattering Parameters here
The intelligent design of the 8714ES gives the technician the ability to utilize accurate and rapid characterization of both linear and nonlinear performances. Its measurement capabilities include isolation, gain/insertion loss, insertion phase, linear group delay, reflection coefficient, electrical length, return loss, AM-to-PM conversion, SWR, absolute power, impedance, and S-parameters.
Learn more about Electrical Impedance here.
Standard VGA monitors are also supported, which enables users to view information in color by simply plugging in any standard VGA-compatible monitor. A larger screen delivers magnified test results and also helps in minimizing operator fatigue. In addition, the 8714ES economy network analyzer is an excellent solution for carrying out automated pass/fail testing exercises to eliminate guesswork during testing exercises.
Ease of Use
With the 8714ES network analyzer, operators to easily switch from one manufacturing test to another by recalling the instrument states. A recall state offers various instrument parameters including IF bandwidth, markers, calibration data, trace points number, and the start/stop frequencies. The built-in markers of the RF network analyzer ultimately help to speed up test times. Each channel features eight markers that allow relative or absolute display of data. These markers can also be used for carrying out automatic calculations of various device characteristics like center frequency, peak-to-peak excursion, gain slope, and standard deviation.
In the narrowband detection mode, the dual mode receiver (3 channel) incorporates a range of  > 100 dB. When testing frequency devices, the 8714ES makes use of broadband detectors and external inputs. Microprocessor controls and digital processing ensure better measurement throughput and testing times.
Contact us with your specific needs for more information or a quote.
The following two tabs change content below.
Mike is a finance industry executive with expertise in test, IT and avionics equipment acquisition, resale, residual valuation, leasing, renting and consignment.
Latest posts by Mike Novello (see all)