Agilent E4421B Signal Generator Review
The Agilent E4421B is lightweight signal generator that is optimized for testing analog systems. This intelligent RF generator incorporates a wide variety of capabilities and testing options, and excels when evaluating the performance of many types of analog systems and signals. It offers customizable test functions enabling users to optimize for numerous specific component tests or measurements, and its smart design is makes it a great choice for today's testing environment as well as future testing needs.
The expandable and flexible architecture of E4421B is one of the most powerful design characteristics of this signal generator. It is specifically designed for testing in the frequency range 250 KHz-3 GHz. It's capable of a resolution of 0.01 Hz and users easily can choose between either a mechanical or electronic attenuator.
Reliable and Accurate Design
Most of today's testing exercises demand high accuracy and reliability, and the E4421B does not disappoint with its superior design. Wideband frequency modulation and phase modulation are included as standard features. Technicians can take advantage of step sweep capabilities for frequency and power in virtually all stages of analog system deployments. Users appreciate its superb level and frequency control, as well as its excellent modulation local oscillator features.
View the internal workings of an Agilent E4421B
Known for being a versatile model, the E4421B features a built-in function generator which assists in troubleshooting and servicing analog systems. In addition, this feature enables operators to use this signal generator without the need to couple it with an external function generator. It has a more compact design than its predecessors and is a very lightweight solution that is also rack mountable.
Phase Modulation Option
Other features of note that are available with the E4421B include a high-performance pulse modulation option. This optional feature enhances functionality of the generator and finds applications in various analog testing exercises. The E4421B is designed to offer a wide operating temperature range, 0 °C to 55 °C. It allows a wide storage temperature range, –40 °C to 71 °C.
Learn more about Wide Band Frequency Modulations
The Pulse modulation can offer different frequencies of Normal BW mode dc up to 100 kHz, and High BW mode dc up to 4 MHz. M 1 and M 2 paths are internally summed for modulation, and both paths can be switched to numerous modulation sources including Ext 1, Ext 2, and Int. The M 2 path has a max rate limit of up to 1 MHz.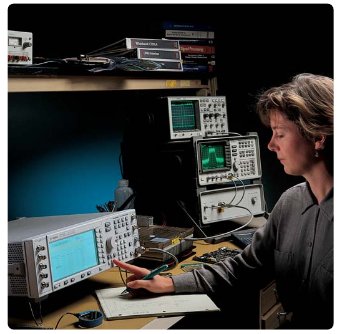 The E4421B supports remote programming via GPIB and RS-232 interfaces.  It is compatible with various control languages including SCPI, 8656B, and 8657A/B/C/D. The nominal output impedance is 50 ohms and its External Input 1 is capable of driving either amplitude modulation, frequency modulation, phase modulation, or burst envelope. The External Input 2 is capable of driving either amplitude modulation, frequency modulation, phase modulation, or pulse. The GPIB interface allows communication with a broad range of compatible devices. Users can also easily customize non standard and proprietary wireless protocols.
In summary, the Agilent 4421B is an excellent choice to consider for a quality signal generator. Contact us for more information or for a quote.
The following two tabs change content below.
Mike is a finance industry executive with expertise in test, IT and avionics equipment acquisition, resale, residual valuation, leasing, renting and consignment.
Latest posts by Mike Novello (see all)