Industry Leading 4G LTE Mobile Communication Tester
The Rohde & Schwarz CMW500 is today's solution for 4G LTE mobile device testing.
Wireless development and production test needs have evolved rapidly in the last 24 months with the introduction and global rollout of 4G LTE mobile broadband networks. Although this rollout schedule varies depending on country, city and carrier, the insatiable data appetite for mobile users calls for a new breed of test gear for manufacturers, subcontractors and wireless device providers.
The early winner in the race to provide a production test solution is the R&S CMW500. This multi-standard test device supports 4G LTE standards in addition to all previous generation cellular and non-cellular standards. Many manufacturers, ODM's and EMS companies are requiring the CMW500 for design, debug and production test of many hand held mobile devices such as phones and tablets.
The R&S CMW500 is available from Test Equipment Connection for sale, rental or lease to own. By no means is this a low cost solution with prices starting in the $75,000 range for a refurbished instrument. Prices can get higher depending on the options and configuration. Because of its for 4G LTE testing capabilities, this product has been deployed in many labs and numerous production lines in most all cases replacing the R&S CMU200 and the Agilent E5515C.
If you have a CMU200 or E5515C and are looking to trade in and upgrade please contact us. The CMW500 supports many wireless standards including GPS, Bluetooth, GSM, EGPRS, WCDMA/HSPA, UMTS LTE, LTE FDD, LTE TDD, TD-SCDMA, CDMA2000 1xRTT, CDMA2000 1xEV-DO, Mobile WiMAX, WLAN, and DVB-T. The product data sheet speaks to this bench top communications tester being 10 times faster than previous test solutions.
The product is scalable with a long list of options helping chipset and wireless manufacturers develop products that make the best use of available frequency spectrum and ever increasing data rates. It is great for testing today's mobile phones and PDA's, with ongoing software and hardware option releases available as wireless technology evolves.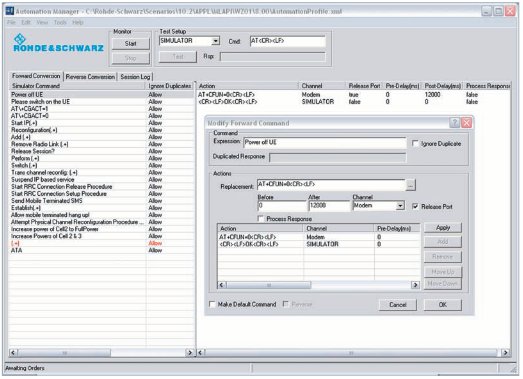 Many years of high quality German engineering have gone into this product and its acceptance in today's market is a testament to its performance and reliability. The graphical user interface allows for ease of use in a production setting and depending on the options, this device can test up to 6GHz. Although there are numerous options to choose from, we carry a variety of configurations that are targeted to particular user profiles and standards to be tested. If we do not have a particular configuration in stock, we can also get this product retrofitted with the options you may require.
It is not very often a manufacturer can develop a single product that can handle all your RF test needs, but the CMW500 delivers in this regard, albeit at a price in the higher range of most bench top test gear. I fully expect a long useful life for this instrument as compared to its predecessors mentioned in this article, and for that reason we have made a significant investment in this technology. Contact us today for a quote.

The following two tabs change content below.
Mike is a finance industry executive with expertise in test, IT and avionics equipment acquisition, resale, residual valuation, leasing, renting and consignment.
Latest posts by Mike Novello (see all)