Refurbished Signal Generators Are a Great Value
The signal generator is a commonly used piece of test equipment. It is an electronic device that can generate electrical impulses in the form of repetitive or non-repetitive waveforms. The signal generator is generally used to design, monitor, test, and repair many kinds of electronic and/or acoustic devices and thus is an indispensable piece of equipment in any laboratory and testing environment. It is only natural that you will desire a powerful and versatile signal generator that can deliver precise results quickly and consistently for your lab or manufacturing facility. But it may involve significant capital investment for a new device. So we recommend you consider the refurbished Rohde & Schwarz SMIQ03, Marconi 2041, and Rohde & Schwarz FSU8.

Rohde & Schwarz SMIQ03
The SMIQ03 sig gen is an ideal solution for today's demanding testing environments. Its superiority stems from its unique ability to offer a diverse range of modulation options, from 300 kHz to 3 GHz, for both single- and multi-carrier applications. This device is powered by the sophisticated Digital Signal Processor (DSP) technology and thus can generate extremely accurate broadband digital modulation signals. This makes the SMIQ03 capable of supporting many different digital radio protocols like AM, FM, and Pulse. The device packs in a powerful broadband I/Q modulator that produces an impressive ACLR (adjacent channel leakage ratio) of 70 dB. This makes this device ideally suited to develop and produce base station amplifiers for the state-of-the-art WCDMA/3GPP mobile radio generation.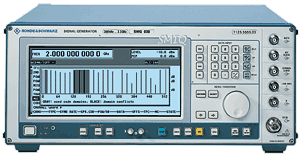 Marconi 2041
The Marconi 2041 is a low-noise signal generator that can operate across a wide range of frequencies, from 10 kHz to 2.7 GHz. This lab proven workhorse offers a wide selection of operating modes and two special low-noise modes to enable improved SSB phase noise. The Marconi 2041 additionally provides stellar-grade spectral purity and low inter-modulation distortion that drastically reduces interference in adjacent channels. This makes this Marconi signal generator ideally suited for the needs of WCDMA base station amplifiers.


The appeal of the Marconi 2041 also stems from its ease-of-use. A large and crystal dot matrix display and low setup time makes it convenient to use in any kind of demanding testing environment. The Marconi 2041 also provides remote programming capabilities via the GPIB and so it can be easily fitted with automatic test systems.
Rohde & Schwarz FSU8
The Rohde & Schwarz FSU8 is one of the best signal generators of its class and can accurately operate across an impressive frequency range between 20 Hz to 8 GHz. It has an average noise level of -158 dBm (1 Hz) and a resolution bandwidth between 1 Hz and 50 MHz. The FSU8 from Rohde & Schwarz is simple in its design, reliable, and very fast. Thus it is the ideal testing gear for base station development.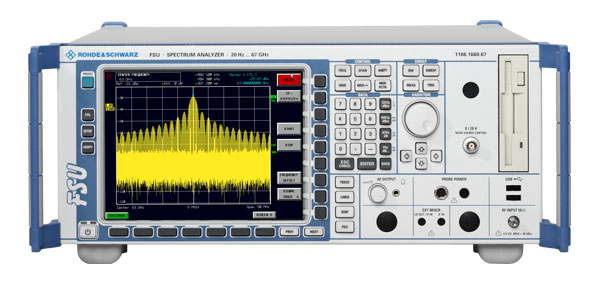 The refurbished versions of the above-mentioned makes of signal generators provide ample value with significant discount from list prices letting you effortlessly adhere to industry-relevant production and testing standards within budget.
The following two tabs change content below.
Mike is a finance industry executive with expertise in test, IT and avionics equipment acquisition, resale, residual valuation, leasing, renting and consignment.
Latest posts by Mike Novello (see all)