Agilent 34401A Digital Multimeter Review
Designed to offer superior performance for accurate system and bench-top testing, the Agilent 34401A Digital multimeter blends accuracy, resolution and speed offering users a truly powerful test solution. The 34401A combines 0.0015% dcV accuracy, digits resolution, and a 1,000 readings/s reading rate to ensure that fast, accurate and repeatable results are obtained. Its versatile feature set works with most all functions that are associated with bench top testing applications.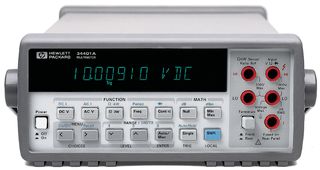 The null feature of this industry leading multimeter is suitably designed for removing fixed offsets and lead resistance in measurements. The 34401A uses other powerful capabilities including average readouts, min, max, and dBm measurements, assisting the technician to make checkout easily and quickly. The robust internal memory of the 34401A allows storage of up to 512 readings when using for troubleshooting exercises.
View a demonstration of the Agilent 34401A here.
Wide Range of Test Applications
For testing exercises that require fast bus throughput, the 34401A delivers, making it an ideal option for a wide range of system testing applications. It is capable of sending 1,000 readings per second across GPIB in ASCII format. It uses both RS-232 and GPIB interfaces, enable users to connect it to a wide range of devices. The Synchronization capability with other devices in a test system is enhanced by its external trigger signals.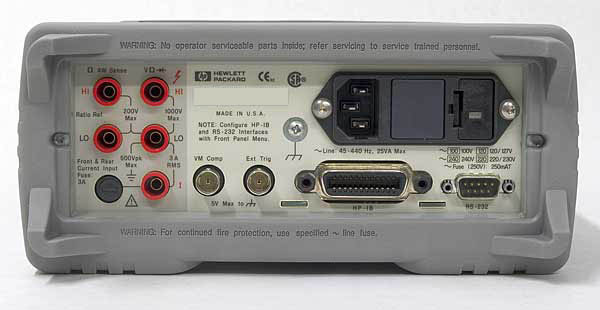 Three command languages are included in the 34401A to ensure backward and forward compatibility. The inclusion of Fluke 8840A/42A, Agilent 3478A, and SCPI languages makes it unnecessary for users to rewrite their existing test software. It is commonly accessed attributes like functions, resolution, and ranges are easily accessed by pressing only one button. The smart menu functionality of the 34401A will allow for technicians to precisely optimize their test solution according to their testing needs.
Learn more about BenchLink Data Logger Pro Software Here
The 34401A features the Agilent IntuiLink software that can easily analyze the captured test data and helps accelerate test work output. This software tool allows users to interpret, analyze, print, document, and display the captured data using PC applications like Excel and Word. This feature enables operators to obtain log data or single reading at specified intervals by configuring the meter setup. Moreover, programmers can control the DMM with SCPI commands by using the ActiveX components.
Key Options and Features:
●    Measurement capabilities to 6.5 digit resolution
●    Subpurb measurement function including 2 – 4 wire resistance, continuity, diode, frequency and period
●    AC-DC current and AC-DC voltage
●    Max input Current (3 Amp)
●    Max Input Voltage (1000 V)
●    Up to 1000 readings a second with 512 reading point memory
In summary, as one of the worlds best selling benchtop multimeters, the 34401A DMM blends industry leading system and bench-top features making it a versatile test solution for todays modern laboratory. It is an excellent choice for a variety of applications and combines a highly visible display, diode test and continuity functions, a built-in math operations solution, and a rugged case. Its flexible system features include GPIB and RS-232 interfaces; Fluke 8840, Agilent 3478A, and SCPI standard programming languages; 1000 readings/s; and Optional BenchLink/Meter Software.
Contact us for a quote or for more information.
The following two tabs change content below.
Mike is a finance industry executive with expertise in test, IT and avionics equipment acquisition, resale, residual valuation, leasing, renting and consignment.
Latest posts by Mike Novello (see all)