Agilent 4156A-B-C Series Semiconductor Parameter Analyzer Product Review
Designed to meet the needs of today's test laboratories, the Agilent 4156A/B/C precision semiconductor parameter analyzer series offers impressive accuracy of up to 20fA combined with Agilent's renowned smart technology.
The SMUs of the 4156A/B/C semiconductor parameter analyzers offer two extra low-current measurement ranges. Technicians can easily carry out measurements using either the 10pA or 100pA measurement ranges in addition to those offered by the series preceding models. These embedded source monitor units (SMUs) have low noise inputs that allow for rapid and precise test and measurement results.
The 4156A/B/C precision parameter analyzers are optimized for performing measurements more accurately and in less time as compared to its predecessors. By using single spot measurements (short integration), these semiconductor parameter analyzers are capable of making accurate measurements quickly and help increase productivity.
Numerous Applications
The 4156A/B/C precision analyzers feature Kelvin SMU connections and a sense connector that is not available in the previous version. The latter finds numerous applications in measurement exercises where the values of resistance are below 100 ohms. The SMU sense connector of the 4156A/B/C enables operators to accomplish their measurement exercises without the need to use probe contact resistance. Installation of triaxial cover to the sense connector enables the technician to perform low-current measurements even in an environment that is characterized with higher noise.
The high accuracy offered by the 4156A/B/C precision parameter analyzers is suitable for advanced device characterization. In addition, they deliver high resolution allows operators to view the measurement results clearly. The Desktop EasyEXPERT software that is included in 4156B/C allows users to control the instrument via a PC-based GUI. This software offers an intuitive approach to parametric testing and automatically saves the measured values to a hard drive.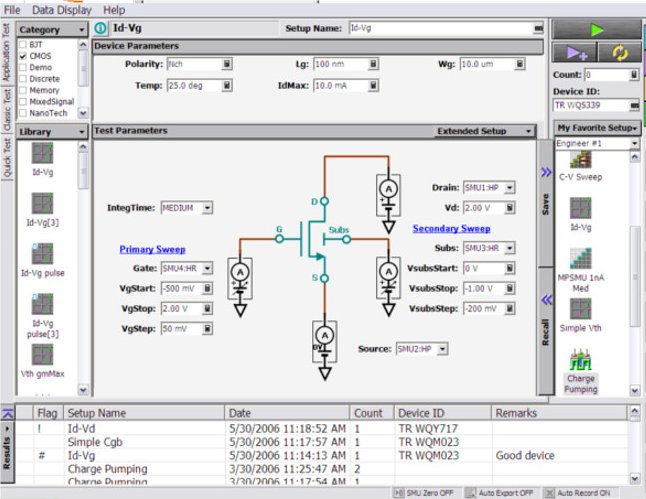 Learn more about EasyEXPERT here
Wide Range of Capabilities
With the wide range of capabilities offered by the 4156A/B/C semiconductor parameter analyzers, the operator has many options to optimize them for their unique measurement needs. They are designed to offer the following measurement capabilities including: QSCV, knob-sweep, stress mode, and stand-by function. The optional 41501B model allows users to perform a wide range of measurements and tests that require the functionality of a signal generator.
Learn more about Electromagnetic Interference (EMI)
The 4156A/B/C series is also optimized for carrying out various measurement exercises that involve arithmetic calculations. Their LCD displays are capable of displaying the calculated and measured results of any exercise. For measurement exercises that require graphical analysis, these semiconductor parameter analyzers provide ideal options. Additionally, they allow the operator to print hard copy output from both printers and plotters. This unique design allow for users to perform auto calibration and self- testing operations.
The Series 4156A/B/C model is an box type EMI (Electronic Measurement Instrument) with disk drive, interface connectors and a graphic display. Techs can choose operation by either keyboard or use front panel keys. The standard configuration includes 4 (HRSMUS), 2 (VSU) voltage source units, and 2 (VMU) voltage monitor units.
Please contact us for more information on this and other semiconductor analyzers.
The following two tabs change content below.
Mike is a finance industry executive with expertise in test, IT and avionics equipment acquisition, resale, residual valuation, leasing, renting and consignment.
Latest posts by Mike Novello (see all)