Tektronix SCD5000 Waveform Recorder Product Review
The Tektronix SCD5000 is a powerful digitizer based waveform recorder that is optimized for capturing picoseconds and nanosecond single shot events. It is optimized for applications involving ESD, EMP, LASER, particle accelerometers, and a wide range of other high-speed single-shot phenomena uses. The SCD5000 is designed to capture events with excellent resolution and fidelity, and is also designed to deliver acquisition rates as high as 200 giga samples-per-second.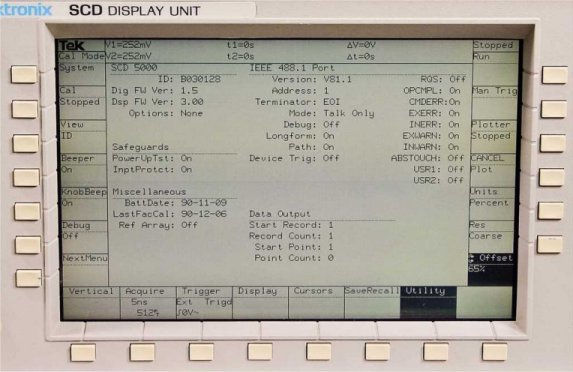 The SCD5000 waveform recorder is a single channel device that is designed to offer a 5 volts input sensitivity. It also allows for a  ±4.0 volt offset range and the signals are DC-coupled. Its two input channels can be configured to algebraically add or multiplex two inputs to one channel. Moreover, it allows users to select waveform record length between 1024, 512, or 256 waveform data points. It can easily achieve a 5 picoseconds time resolution and time windows ranging from 5 nanoseconds to 100 microseconds.  These key features makes the waveform recorder an excellent option for many applications that require flexible acquisition.
Multiple Storage Locations
The Tektronix SCD5000 also features 11 bits (2048 levels) of vertical resolution. The first four of the sixteen built-in waveform locations of this instrument use nonvolatile memory. The auto-advance acquisition mode will allow technicians to store multiple trigger events into different storage locations. A maximum of 1024 acquisitions can be averaged through an averaging acquisition mode. The averaging of acquisitions is especially useful in enhancing the signal-to-noise ratio. Each record is date and time stamped to allow for future comparisons. The SCD5000 recorder offers 10 nonvolatile storage locations for settings to allow quick instrument setup.
Learn more about Display Resolution here.
Operators can easily control the SCD5000 waveform recorder through its display unit or over its IEEE-488 interface. The display unit is attached to the front end of this instrument and it allows users to view 4 waveforms concurrently, control operating parameters, view instrument operation status, and perform cursor measurements on displayed waveforms. In addition, the SCD5000 features 2 user-definable buttons and 16 text lines, which makes it a suitable display device for a wide range of applications.
Learn more about IEEE-488 interfaces here.
Operators can enhance the functionality of the SCD5000 waveform recorder by taking advantage of the numerous available options. The Option 01 offers an internal trigger pickoff and a delay line. The acquisition rate of the SCD5000 can be increased by employing the Fast Waveform Capture, Option 1P. For applications that require SMA-type connectors' compatibility, the Option 2E is designed to allow SMA-type connectors support. Option 2F adds to the SCD5000 a high-speed data output. The Option 9E allows users to relocate the Calibrator Output, Trigger Input and Input connectors. This option is suitable when the user wants to shift these connectors to the back end of the instrument.
Key Features:
●    Internal Time Calibrator, External Input or GBIP command Triggering Sources
●    Triggering Level: Fully selectable full scale input range
●    Internal Calibration: Auto adjustment of CRT circuitry, Trigger, Horizontal and Vertical.
●    Restore settings for factory GPIB and instrument at any time
●    Single channel vertical mode
To obtain a quote on this and other Tektronix products please contact us.
The following two tabs change content below.
John Bahng
John is a Hong Kong based test equipment industry executive active in buying, selling and repositioning of surplus wireless test equipment assets for import and export. You can find him on
Google+
Latest posts by John Bahng (see all)