Voltech PM6000 Advanced Digital Power Analyzer Product Review
The Voltech PM6000 is a versatile sampling power analyzer that is designed to offer high-standard power analysis. Engineered to offer up to 6 measurement channels, the PM6000 delivers a basic accuracy of 0.02% and a 10MHz bandwidth, and is intuitively engineered to allow technicians to easily employ it in a variety of test settings.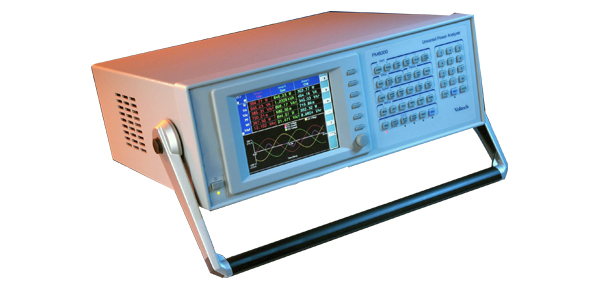 In order to provide the user with error-free results, the analyzer is designed to sample at 40MHz and offers outstanding accuracy by rejecting common-mode signals. Each individual measuring channel is its own wattmeter, and has floating inputs to connect with current and voltage when measuring a designated power circuit
Learn more about Wattmeters here.
The Voltech PM6000 features a bright VGA display that enhances readability of measurements in different test settings. Its intuitive menu system assists operators and helps increase productivity in the lab. It has simple to use interface ports for connecting it to printers, Ethernet networks, and RS232 terminals. By combining power measurement accuracy with advanced digital signal processing techniques, it provide users with a test solution that is capable of solving a wide range of power measurement problems.
Accurate and Reliable
The Voltech PM6000 is designed to offer the accuracy and reliability required in the validation and testing of sophisticated power electronic designs. It is fully optimized for today's power testing and designing challenges, and offers impressive bandwidth and flexibility. The 6 available wattmeter channels on offer enable operators to quickly accomplish multi-point measurement tests. Its measurement channels are designed to accept direct voltages that are as high as 2000 Vpk, allowing for usage of a wide selection of current transducers in a variety of applications.  It will allow for operators to plug in wide-bandwidth resistive shunts in their measurement set-ups, which will automatically transfer calibration data to the unit.
View a video description of the PM6000 here.
The Voltech PM6000 reputation is excellent, and it is an ideal option for measurements involving chargers, UPS systems, and high-power converters. It is specially optimized for making accurate measurements for all kinds of waveforms including more heavily distorted ones. The  PM6000 is also a sound solution for carrying out power measurements on transformers. It is designed to offer optimum performance for both short-circuit and open-circuit conditions. Under this category of power measurements, it excels for measuring Watts, Vrms, Arms, Vrmn, Apk, VA, VAr, THD, Harmonics,Inrush and K-factor.
The power analyzer is also suitable for measurement applications involving variable frequency machines and drives. Technicians are capable of making concurrent measurements at the output and input of a drive. This design characteristic allows accurate measurements under all speed and load conditions. For this category of power measurements, the Voltech PM6000 is suitable for measuring drive input, DC Bus, motor output, drive output, and efficiency.
Features and Benefits:
●    Users can configure up to 6 channels including DC bus, 3 wattmeter, and 3 phase input measurements all at the same time
●    Basic 0.02% accuracy of reading for high precision measurements
●    Easily capture high frequency and motor frequency data resulting in highly accurate overall measurements.
●    10 MHz bandwidth
●    Easy to use menu system and high graphic display
NOTE – Although Tektronix has recently acquired Voltech, these units are still supported, we have several available and in stock. Please contact us for more information.
The following two tabs change content below.
John Bahng
John is a Hong Kong based test equipment industry executive active in buying, selling and repositioning of surplus wireless test equipment assets for import and export. You can find him on
Google+
Latest posts by John Bahng (see all)