Agilent 4194A Impedance Analyzer Product Review
The Agilent 4194A is a powerful gain-phase analyzer that is optimized for impedance measurements and component analysis. The versatile model finds many applications in impedance measurements including the analysis of components that are designed for high frequency uses. Such high frequency components include chip inductors and crystal oscillators. It is an excellent choice when quality and reliability are required in the designing of a product.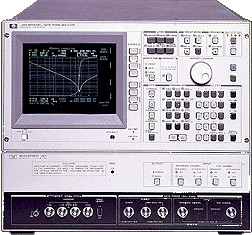 For the measurement of input impedance and output impedance of circuits as well as impedance of circuit board traces, the 4194A is a popular testing solution. An impedance probe kit is usually necessary for the in-circuit measurements of impedance parameters. Users can easily increase the list of the applications by combining it with a suitable impedance probe kit. This combination is ideal for various applications in the 100 MHz frequency range. In addition, a combination of the impedance analyzer and an impedance probe kit allows users to measure various impedance parameters including R, L, C, |Z| and θ.
Automatic Calibration Capability
Accurate measurement of impedance is a vital requirement when a high quality product is expected. The 4194A is designed to help the technician improve the performance and quality of their RF and video components and circuits. The analyzer offers automatic calibration capability to eliminate errors that are caused by stray admittance and residual impedance surrounding the device under test. Similarly, the impedance probe kit that is usually used together with this impedance analyzer offers three calibration standards to minimize errors that may negatively affect the accuracy of the measurements. This makes the models combination of testing instruments a great solution for testing exercises that demand high accuracy.
Learn more about Gain-Phase Analyzers here
In addition, the 4194A impedance analyzer is optimized for performing impedance evaluation in various circuits. It is uniquely engineered to obtain highly reliable results. It is easy to determine the difference that exists between the theoretical circuit characteristics and the actual ones, determining this variation with accuracy and speed. When coupled to an impedance probe, the test solution can easily obtain various in-circuit impedance parameters for a wide frequency range, spanning 10 kHz -100 MHz.
Excellent Choice for Component Modeling
Technicians are able to carry out an evaluation of a component's DC characteristics by employing a combination of the impedance analyzer and an impedance probe. The probe can be used to apply an external dc current or voltage. Such a setup is ideal for determining the DC characteristics of materials, components, and semiconductor devices. The "equivalent circuit" is one of the most important functions offered by the 4194A impedance analyzer. The function allows the technician to perform component modeling of capacitors, resonators, inductors and other components. In addition, the 4194A is a suitable test solution for R&D applications, allowing users to test their designs as well as products to ensure that the desired quality is achieved.
Learn more about Electrical impedance here
Key Benefits and Features:
●    Easily perform quick Impedance measurements (In-Circuit)
●    Accurately Analyze various components (±150V – ±0.5A DC Bias)
●    Quickly analyze high frequency components such as chip inductors and crystal oscillators
●    Reliable, easy to use circuit evaluation
Contact TEC for a quote today.
The following two tabs change content below.
John Bahng
John is a Hong Kong based test equipment industry executive active in buying, selling and repositioning of surplus wireless test equipment assets for import and export. You can find him on
Google+
Latest posts by John Bahng (see all)