Agilent 53148A Product Review
When needing a multi featured, rugged solution in the field that's designed for a variety of applications, the Agilent 53148A is a solid choice. Its ingenious weight saving design makes it perfectly suitable for use outside of the laboratory, specifically being ideal when working in limited space or when portability is required. It offers quality, bench worthy accuracy combined with rugged, field tested reliability.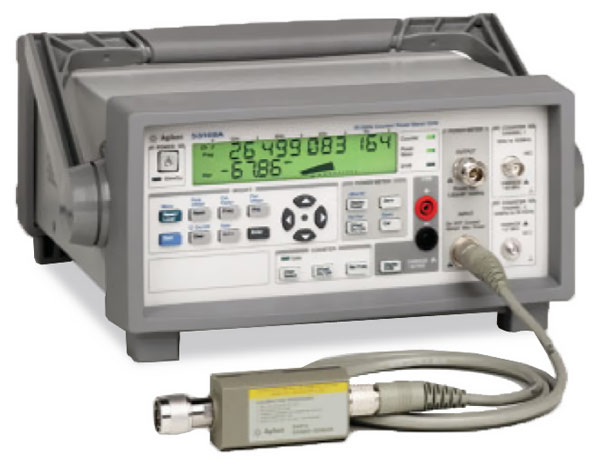 Three in One Device
It is basically a combination of three very useful testing devices. First, it's a 26.5GHz CW microwave frequency counter with an impressive set of useful features. Additionally, it is also a capable dc DVM and a true power meter. Perfect for working in a variety of situations, it's well suited for technicians using it along power lines and pipe lines when maintaining and installing digital radio links. Technicians will appreciate having the full featured unit available in mobile settings including when performing maintenance on cell to base station links, installing and maintaining microwave links, as well as install and maintenance of  business to business communication links.
Learn more about Digital Voltmeters (DVM) Here
With the smart weight saving setup, the Agilent 53148A stands out by assisting the tech who is usually required to carry 3 different test units separately to a remote location. Portable and sturdy design features including solid rubber bumpers make it ideally suited to handle most any of the elements and most common outdoor situations. Using the 53148A's available battery  (sold separately)  is another solid option to be considered if work in areas with limited access and no available AC power source is required. There is also an optional soft styled carry case thats ideal for transiting and includes a pouch for additional items.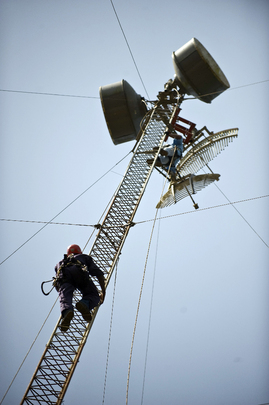 Many Features
In regards to testing and measurement purposes, The Agilent 53148A is very versatile, and helps reduce the need for high cost ATE type rack space. For measuring and use in assembly and microwave testing, customers appreciate standard features such as both RS-232-SCPI and GPIB programmable interfaces that are ATE ready. An rack mount kit is also available as an additional option. Further serving the technicians needs, the unit has three specific testing options available for frequency range. The available ranges are 20GHz, 26.5GHz, and 46GHz. Ranges from 50MHz up to maximum frequency are covered by the wideband microwave input, thus reducing any requirement for channel switching or waiting for unneeded resolution. If superior accuracy is needed over time and temperature, a oven timebase is an available option.
Learn about the History of GPIB Here
Learn more about Standard Commands for Programmable Instruments (SCPI) Here
Versatile and Easy to Use
Expanding on its versatility, the Agilent 53148A 's  True Power Meter  is specifically useful on site. The graphical peaking meter provides quick, accurate power adjustments. You can also easily achieve 0.02 dB instrument accuracy and  0.01 dB resolution remotely while in the field. The capability of the ±50 Vdc DVM is also widely noted by our customers. When used during antenna alignment, the DVM can observe the microwave receiver AGC circuitry, as well as checking standard power supplies that are usually located on telecom sites.
A refurbished or used Agilent 53148A allows for versatile quality performance at a reduced cost. Contact us for more information and availability today.
The following two tabs change content below.
Mike is a finance industry executive with expertise in test, IT and avionics equipment acquisition, resale, residual valuation, leasing, renting and consignment.
Latest posts by Mike Novello (see all)