Kikusui PLZ164W
The Kikusui PLZ164W is a reliable electronic load unit that offers configurable, multi function capability combined with built-in high level safety features.
With the same quality attributes as its predecessor models, the PLZ-4W series gives an excellent user experience. Multi Memory Function, Soft Start, Lock Function, and Short Function, etc are all available.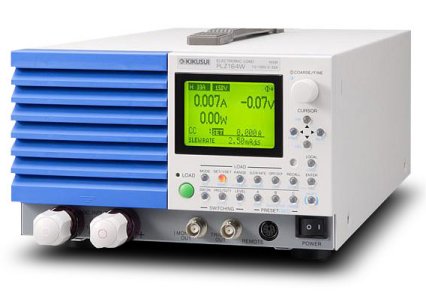 Customers comment on the versatile design and the multiple testing applications these units offer. They are basically designed for test system integration of multiple DC power sources such as single cell Fuel Cell Stacks, primary or secondary batteries, and switching power supplies.
Read more about the Kikusui PLZ164W here
When testing, expandable capacity can be easily achieved by the use of its 2kW Booster unit (PLZ2004 WB). This feature also helps lower operating costs substantially. If one of the Booster units is in use as a master, its possible to connect another 4 units in parallel. If a booster unit is not required, a parallel connection of up to 5 same model units can be used.
As a result of its high precision and accuracy, specific resolution in micro currents can be achieved with the 3 range configuration. A convenient 5 digit display is used for the voltmeter and ammeter.
DC Electric Load is used, and it is able to take voltage from 1.5v to 150v. The rising time is 10µ second and the response time is 10µ second, which is superior if compared to similar devices. Support of up to 9 kw or 1800 A, Rs- 232C, GPIB is available, and USB ports are provided as standard.
Learn more about Electronic Loads Here
The PLZ164W is also an excellent solution for single cell tests of Fuel Cells. It will allow for a load input up to rated current even if setting the input Voltage at 0V, which is the requirement spec for test purposes. Another nice feature is the ability save sequence patterns in memory on both the first sequence and normal sequence in each program.
Expanded capabilities include being able to work in different operation modes including:
Constant voltage (CV)
Constant current (CC)
Constant power (CP)
Constant resistance (CR)
a combo of constant current plus constant voltage mode (CC+CV)
a combo of constant resistance plus constant voltage mode (CR+CV)
Renowned for its wide range of applications, the PLZ164W can accurately measure a variety of potential testing applications. This includes efficient switching power supplies, digital camera battery's CP pulse discharge, a mobile phone circuit's actual load sequences, and AC adapter evaluations.
Other useful features include quicker increase or decrease times with swing rates for fleeting testing on DC power supplies and full speed DC or DC convertors.The max operating current is 33A and the range of operating voltage is from 1.5 volts to 150 volts. The power capacity is 165 w and the type is 1 normally. The rise time is 10 µs high speed reply and it is possible to accomplish real load imitation by order switch function.
In its class, the PLZ series has a few equals and is constantly in demand. The proven reliability and superior capacity testing of these units makes buying either a used or refurbished unit a solid, cost effective choice.
Read about electronics manufacturer Kikusui here.
The following two tabs change content below.
John Bahng
John is a Hong Kong based test equipment industry executive active in buying, selling and repositioning of surplus wireless test equipment assets for import and export. You can find him on
Google+
Latest posts by John Bahng (see all)