Agilent 6675A DC Power Supply Review
Well known throughout the industry, the Agilent 6675A lives up to its billing as a quality, technician friendly power supply. It's the top line model of the 6670A series power supplies on offer from the popular test equipment maker, making it a excellent resource to any testing laboratory. It offers superb reliability and low noise outputs in an affordable package.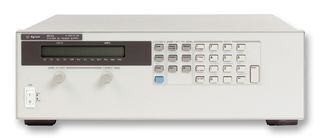 It's durability is renowned in the field, and high customer satisfaction ratings are keeping the demand strong for both used and refurbished models. This DC power workhorse is very efficient at 2000 watts and offers a much lower operating noise than other similar units in its class. The advanced fan speed control make the Agilent 6675A perfectly suited for use on the bench. The result is very subtle ripple and acoustic noise is being emitted, making for highly accurate voltage and currency measurements.
Easy programming of DC output and the multi protection features is possible by using the GPIB, and can be quickly accomplished from accessing via the front panel or by use of SCPI standard commands. When combined with the serial link, the user is able to connect up to 16 power supplies all through one GPIB address. The analog signals will allow the user to easily control the output current and voltage. This can be especially useful by displaying instant reactions to process changes in many types of high noise settings. Additionally, even more simplification of testing system integration is possible by the use of VXI Plug and Play drivers. The many optional accessories that are available separately at additional cost include:
●    Digital 4-pin Plug
●    Analog 7-pin Plug
●    Accessory Slide Kit
●    Link Cable
View GPIB instrument control tutorials
Characteristics of the Series
The Agilent 6675A has an excellent reputation and is loaded with technician friendly features which include a very fast Command Processing Time. After receiving the digital data, the time needed for output voltage to start to change is only 20 ms for the power supplies that are connected with the GPIB directly. Also, each specific load lead can drop up to one half of the rated voltage. Other characteristics of note include: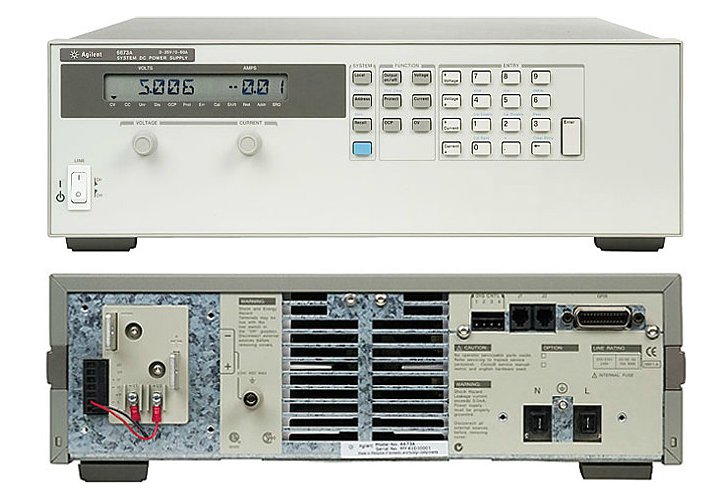 ●    DC Floating voltage: (Its possible to float the Output terminals up to ±240 Volts dc from chassis ground)
●    Modulation: (Analog programmable of the output current and voltage)
●    GPIB Interface Capabilities: PP0, DC1, DT1, E1, SH1, AH1, T6,L4, SR1, RL1, and.IEEE-488 command set
●    Input Power: 3,800 VA, 2,600 W at full load; 170 W at zero load
●    Input Impedance: 60 k Ohm or higher
●    Input Signal: 0 to –4 V for voltage, 0 to 7 V for current
●    Output Common Noise Current: ( signal ground post) – 500µA-rms, 4mA from peak to peak
Read an overview of IEEE – 488
Reasonably Priced and Reliable
If you are in need of cost effective and clean, quality power in the lab, consider a refurbished or used Agilent 6675A.  With its acknowledged reliability, expandable options and user friendly capabilities, the refurbished models offer our customers a complete, affordable power supply solution.
The following two tabs change content below.
John Bahng
John is a Hong Kong based test equipment industry executive active in buying, selling and repositioning of surplus wireless test equipment assets for import and export. You can find him on
Google+
Latest posts by John Bahng (see all)