Agilent 8920B Communications Test Set Product Review
The Agilent 8920B is a multi-function communications test set designed for testing a variety of RF applications. It is optimized for testing applications in the 800 MHz and 1900 MHz frequency bands, and features an intuitive test interface designed for on-call parametric tests.  Its smart design offers precise digital power measurements, as well as capably processing TDMA readings and output.


The 8920B test set offers accuracy, flexibility, and speed required for today's RF communication testing applications. It is optimized for testing various communications systems including cellular telephones and land mobile radios, offering enhanced throughput and high quality. Call processing programmability is simplified by the high-level GPIB commands that this instrument offers.
Signal Generator and Power Meter Feature
Many RF testing exercises require a signal generator. To address this, the 8920B features AF/RF signal generators. This feature enables operators to carry out tests without coupling an external signal generator. The RF test set provides users with an AM/FM modulation analyzer and technicians can also carry out a wide range of power measurement exercises by utilizing the embedded RF/AF power meter. The 8920B features a spectrum analyzer that enables users to troubleshoot and address various testing needs without requiring an external device.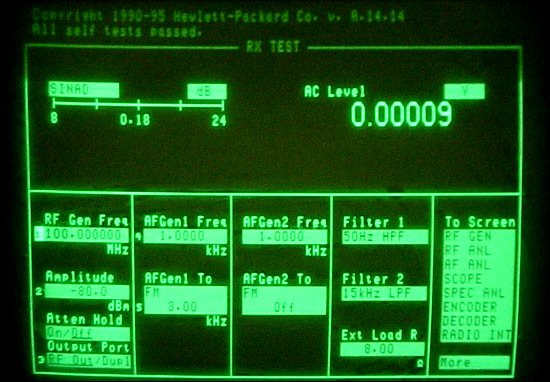 The 8920B also excels in situations and testing exercises that require the functionality of a tracking generator. This finds a wide range of applications in testing and servicing of many RF communication systems. It has an oscilloscope and reduces the need of carrying several external devices. Another important feature of the communication set is the IBASIC controller. It is designed to provide users with the functionality of a signaling encoder/decoder, and it also includes a function generator.
Learn more about Time division multiple access (TDMA) Here.
For field exercises that require AC/DC voltmeter, DC current meter, or SINAD/SNR meters, the 8920B is an excellent option. Having the functionality of all these devices combined enables users to carry out numerous tests and measurements at once, and the 8920B offers a high stability reference for high-precision testing exercises. In order to allow communication between this test set and other testing devices, it features a Centronics port and an RS-232 interface.
Learn more about Signal-to-noise and distortion ratio (SINAD) here.
Multiple Functions and Options
The various options of the 8920B allow operators to optimize the test set for their unique testing needs. It supports applications in a wide frequency range, 30 MHz-1 GHz. With option 055, operators can use this RF test set for applications in the 250 kHz-1 GHz range. Users can also save over 500 sets of settings in its standard user memory.
The Agilent 8920B is also a popular choice in the manufacturing setting. Excellent processing speeds are easily achievable when testing cellular equipment compared to many rack system setups. This ultimately results in lower production costs and increased productivity. It quickly can perform troubleshooting, call processing tests, and parametric testing. It is also equally productive on tests with land mobile, cordless, trunked, as well as cellular phones and equipment.
If you have RF or other test equipment needs, please contact us for more information or a custom quote.
The following two tabs change content below.
John Bahng
John is a Hong Kong based test equipment industry executive active in buying, selling and repositioning of surplus wireless test equipment assets for import and export. You can find him on
Google+
Latest posts by John Bahng (see all)