Agilent 89600S Signal Analyzer Review
The popular Agilent 89600S is a series of VSA (vector signal analyzers) which are versatile, high performance VXI based precision devices integrated at the manufacturing level before distribution to the user. They are mostly commonly used in cellular, wireless-connectivity, aerospace and with defense applications.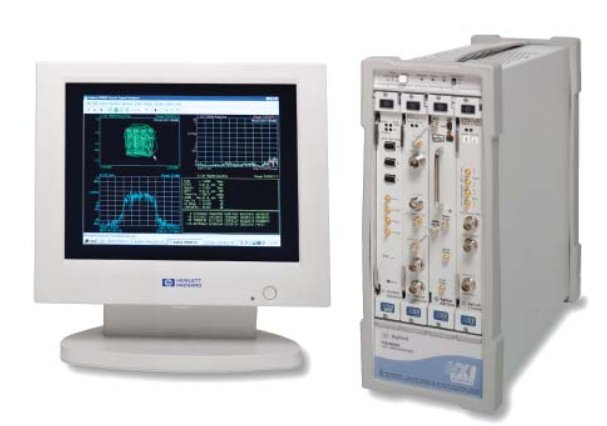 Agilent's 89600S series comprises of four basic configuration types including: Agilent 89610 baseband signal analyzer, 89611 IF vector signal analyzer, 89640 RF vector signal analyzer and (RF) 89641 model vector signal analyzer. Their frequency range is DC up to 40 MHz, DC up to max 36 MHz, DC up to 2.7 GHz and DC up to max of 6 GHz.
Learn more about Vector Analyzers here
The  89600S  vector analyzers can be easily customized to meet the user needs. The user may choose either E8408A 4-slot mainframe or E8403A 13-slot VXI mainframe depending on the configuration required. The 89600S Series analyzers also offer three sizes of signal capture memory: 144 MB (46 MSa, complex), 288 MB (92 MSa, complex) and 1.2 GB (384 MSa, complex) depending on the configuration. The standard signal memory for all the configurations is 144 MB.The user may also add second baseband/IF input and a second RF input to 89640 RF and 89641 RF vector signal analyzers.
Application Software Capabilities
Agilent's 89600 Series vector analyzers are also equipped with two sets of application software: vector signal analysis and spectrum analysis. The vector signal analysis application software is used to measure and verify signal performance quickly due to utilization of multi-measurement capability. It also analyzes time-domain signal quality using pulse timing features and points out the answers to signal problems with advanced troubleshooting tools and methods like Isolating the sources of unexpected interactions with trace-to-trace coupling, Recording and playing back signals for detailed post-processing and Catching short-lived signal events with advanced triggering. The spectrum analysis application software performs signal magnitude measurements with very high resolution.
The included VSA software has two modes for signal processing: zoom and base band. The two modes have an affect on the duration and the appearance of the waveforms the 89600S displays. A majority of the measurements the 89600 displays are comprised of a (non zero) start frequency, better known as the Zoom mode. The time domain display in these cases will show a advanced envelope representation of input signal – which basically is the phase and magnitude of the signal in relation to the analyzer's frequency. This gives the user advanced capability to explore the base band component of signals without needing to demodulate it first.
View video tutorials for the Agilent 89600s
The software update and subscription service helps the user to get value for money for his investment in vector signal analyzer by keeping 89600 VSA software current with new enhancements. This software update and subscription service product provides automatic notification and shipment of new software versions as quickly as they become available. The software update and subscription service product chosen updates specific software license, for instance 89601BU product will only update the 89601B licenses and 89601BNU product will only update the 89601BN licenses.
Contact us for a quote or for more information.
The following two tabs change content below.
John Bahng
John is a Hong Kong based test equipment industry executive active in buying, selling and repositioning of surplus wireless test equipment assets for import and export. You can find him on
Google+
Latest posts by John Bahng (see all)