Agilent E4412A Power Sensor Review
The Agilent E4412A is a diode power sensor designed to allow technicians to measure CW microwave power with precision and speed. This quality Agilent device allows a broad dynamic range of power levels from -70-dBm to +20-dBm, and is an excellent choice for today's test laboratory.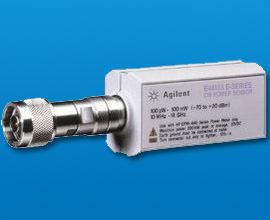 The E4412A power sensor is optimized for high-speed applications, and performs exceptionally well when compared to the narrow-width averaging techniques employed in average-power sensors. Unlike the E4412A, some pulse and digital signals with amplitude modulation forms may cause measurement errors. Likewise, signals containing significant harmonic content and those with multiple frequency components may cause measurement errors especially at high power levels.
Learn more about harmonic content here.
Lightweight and Rugged
The Agilent E4412A displays the measured CW power in logarithmic or linear units on a power meter. This useful characteristic enables operators to obtain the CW power measurements in dBm, dB, Watts, or even %. It is designed to offer 50-ohm nominal impedance and the lightweight device design weighs just under 0.50 kg.
Learn more about continuous waveform power (CW)
The E4412A power sensor provides a very capable measurement solution for fast-speed testing exercises. Its wide dynamic range also allows operators to apply it for a broader range of power measurements. It features an EEPROM that stores the calibration factors and temperature and linearity compensations data. In some instances, mismatch uncertainty affects the accuracy of power measurements. To overcome this challenge, the E4412A power sensor features excellent SWR making high-accuracy measurements fast and easy to accomplish.
Compatible With Many Power Meters
The Agilent E4412A is compatible with a wide variety of power meters including EPM, EPM-P, and P-series families. It supports N1913A/ 14A, E4418B/ 19B, E4416A/ 17A, and N1911A/ 12A power meters. This feature allows operators to couple the CW power sensor with a large number of power meters. In addition, this diode power sensor is also suitable for carrying out relative measurements.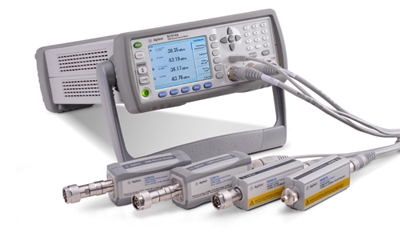 For this kind of measurement, a comparison of two power levels is made with a single sensor. This measurement technique assumes that the measured power and the reference power are of the same frequency. This method also neglects errors arising from zero drift, zero set, and noise. Furthermore, the technique ignores mismatch changes that are likely to occur during measurements.
Both the reflection coefficient and calibration factor (CF) data of the E4412A power sensor are provided at 1-GHZ increments. The data is considered specific to each specific sensor. The CF can correct for the specific sensor's frequency response. The stored CF data is automatically read by the power meter, and is used to make corrections if needed.
The recommended operating temperature of this device ranges from 0 ºC to 55 ºC. Moreover, this power sensor should be stored in a suitable environment to ensure that its functionality is not affected. The manufacturer recommends a –55 ºC to 75 ºC storage temperature. The suggested Average Maximum Power and Peak Power  is (+23 dBm) 200mW. To avoid damages, the Max torque should be kept under  (135 Ncm) 12 in lb at the connection for a N Type connector.
Contact us for more information or a quote.
The following two tabs change content below.
John Bahng
John is a Hong Kong based test equipment industry executive active in buying, selling and repositioning of surplus wireless test equipment assets for import and export. You can find him on
Google+
Latest posts by John Bahng (see all)