Agilent E4432B RF Signal Generator Product Review
The Agilent E4432B is a RF signal generator that is field proven and excels for testing both digital and analog communication systems. Its commonly used with manufacturing or troubleshooting applications in the cellular communications, wireless connectivity, audio/video broadcasting and aerospace industries.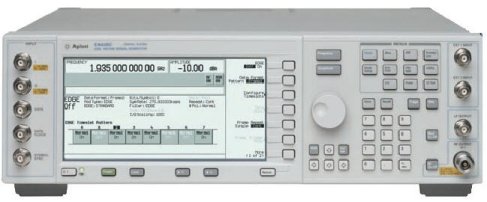 Many test instruments are configured to adhere to already established standards. The Agilent E4432B signal generator is not limited by these standards and  can be easily configured. It can quickly cover a broad variety of tests by creating experimental signal or by altering digital signal. This is especially useful when performing non standard tests or working with non standard wireless protocols
The internal dual arbitrary generator and real time baseband generator features in the Agilent E4432B signal generator allow it to generate custom digital modulation formats and diverse analog modulation with superior quality and high reliability. More than 15 variations of Custom digital modulation done with  MSK, FSK, QAM and PSK.The generator also can generate diverse data with bursts capability, while at the same time offering perfect modulation accuracy and stability.
Learn more about minimum-shift keying (MSK)
Flexible and Expandable Architecture
The Agilent E4432B generator also has flexible and expandable architecture with an upgrade path for options and a totally flexible baseband generator. With embedded architecture that accepts future enhancements, this generator can be expanded to address new challenges and new user requirements. Its advanced technology will allow for adapting quickly to changing testing environment requirements. Several different firmware personalities may also be added separately to provide specific modulation formats. All of this makes the generator an excellent choice when a RF systems testing solution is required
Learn more about Quadrature amplitude modulation (QAM)
When testing or troubleshooting mobile or base transmission communication, requirements may dictate that the test devices support different types of communication standards. The Agilent E4432B generator has proven to be extremely useful in such a scenario, and it supports most of the required standards including DECT, GSM, NADC, PDC, PHS, TETRA, and CDMA communications standards. Data for these standards can be rapidly generated internally by the real-time I/Q baseband generator.
Frequency Range
The Agilent E4432B generator frequency ranges from 250 kHz to 3 GHz. This enables the user to specify different frequency rates to cover many communication systems. The user can also create his/her own new modulation scheme by specifying the base generator symbol rate from 20 Hz to 12.5 MHz, or to a range that will cover communication system he is working with.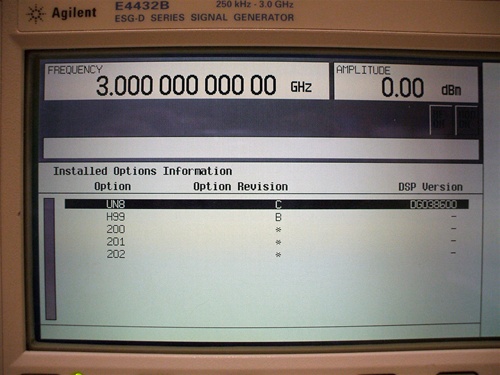 In addition to having RF modulation bandwidth up to 35 MHz, the Agilent E4432B generator has option either to choose electronic or mechanical attenuator. The user can perform I/Q adjustments and store needed data securely in different storage memories. The generator also  has a easy to read LCD display which provides information on the current instrument state in real time.
Key Features
●    Modulation bandwidth to 35 MHz (RF)
●    Optional  I/Q baseband generator (Real Time) and arbitrary waveform generator
●    (40 MHz) )Sample rate and I/Q resolution(14 Bit)
●    (4 MB) Msample memory  for waveform playback
●     (4 MB) Msample memory for waveform storage
For more information, feel free to contact us.
The following two tabs change content below.
John Bahng
John is a Hong Kong based test equipment industry executive active in buying, selling and repositioning of surplus wireless test equipment assets for import and export. You can find him on
Google+
Latest posts by John Bahng (see all)