Anritsu MS2724B Handheld Spectrum Analyzer Product Review
The Anritsu MS2724B is a high-performance spectrum analyzer that is designed for applications in the 9kHz – 20GHz frequency range. It is specifically optimized for a large selection of uses including WiFi installation and testing, cellular signal measurements, microwave and RF signal measurements, and spectrum monitoring. It capably combines an impressive feature which provides operators with a powerful test solution.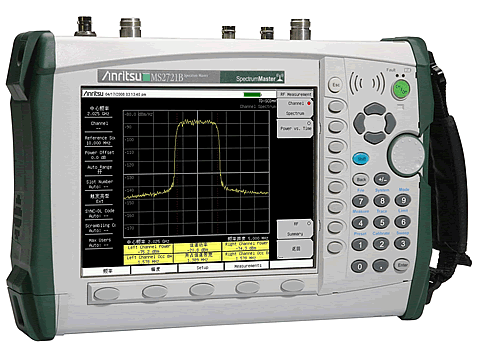 The MS2724B is well known for its high performance features that enable users to carry out even the most challenging testing exercises with ease and high accuracy. It works within the 9 kHz-20 GHz input range and offers a RBW Range of 1 Hz -3 MHz. It is also designed to offer a low phase noise (–104 dBc/Hz). Other very useful features include a built-in AM, FM, and SSB Demodulator, a powerful built-in preamplifier and a 65-dB step attenuator.
Designed for Field Use
For field exercises of up to 2+ hours, the MS2724B spectrum analyzer performs well and can work solely on battery power before needing to recharge. Weighing in at only 3.4 kg (7.5 lbs) it conveniently has a GPS receiver option and 3G modulation options. In addition, this high-performance spectrum analyzer offers CISPR bandwidths and a quasi-peak detector.
View a video introduction of the Anritsu MS2724b
The MS2724B is also designed to display multiple markers on its screen, and is capable of providing a table of 6 marker frequencies. It can readily display the amplitude values together with delta marker offset.
For measuring the occupied bandwidth and channel power, the MS2724B excels with its smart, user friendly technology. It is uniquely optimized for performing carrier-to-interference ratio measurements. Operators can take advantage of these features for the test and measure the power levels of channels adjacent to the center channel. It utilizes the antenna calibration tables for the measurement of dBmV/meter and dBm/meter2.
Wide Frequency Range And High Performance
This analyzer also can assist to deliver a tuning resolution of 1 Hz. Its preamp supports a wide frequency range, 100 kHz – 4 GHz. At 25ºC ± 25ºC, and is designed to deliver a frequency reference accuracy of ±0.3 ppm. In addition, the MS2724B analyzer can  offer ±2% Sweep Time accuracy in zero span. Its smart design helps support a wide selection of Sweep Trigger including single, video, free run, and external. For amplitude measurements, the MS2724B spectrum analyzer offers an attenuator range of 0 – 65 dB, an attenuator resolution of 5 dB steps. and uses a wide amplitude measurement range, DANL – 30 dBm.
Learn more about Frequency Standards Here
For field use, the MS2724B stands out. It can quickly save up to 1000 traces with its non volatile 256MB compact flash internal memory. Users can easily connect to an external computer via USB 2.0 connection or by ethernet 10/100 megabit connection. You can also use either the USB drive or Compact Flash to save measurements.
Key Features and Benefits:
●    Compact and lightweight for easy carry
●    Demodulation for SSB and AM/FM
●    Safe Level Input to +43 dBm max
●    Multi Language Support
●    Expanded Remote Capabilities
●    RF and Microwave spectrum monitoring
To purchase, rent or lease Anritsu products please contact Test Equipment Connection.
The following two tabs change content below.
John Bahng
John is a Hong Kong based test equipment industry executive active in buying, selling and repositioning of surplus wireless test equipment assets for import and export. You can find him on
Google+
Latest posts by John Bahng (see all)