When you are shipping your equipment out for repair, calibration, or trade in, we recommend the following guidelines that will significantly reduce the risk of your equipment arriving at its ultimate location damaged or not arriving at all. These techniques have resulted from our 20 years experience in shipping equipment globally while making sure your technology arrives timely, safe and sound.
Packaging techniques to be considered are as follows. Prior to placing your equipment in the box for shipping you will need to cap all connectors to eliminate the chance for dirt and debris getting into the connectors and damaging your equipment.  Rubber caps typically work the best to protect your equipment from static discharge as well.
When you are ready to pack make sure you use a double walled box for maximum strength and durability.  The packing material should be at least 4 to 6 inches on all six sides to reduce the potential for damage or shock as the box makes its way to the ultimate destination.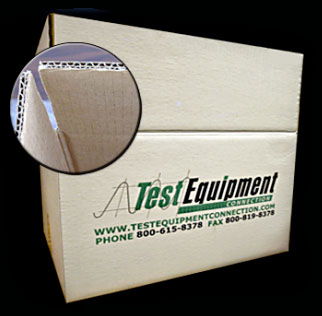 Ideally you should use instapak packing foam for you packing material.  This will keep the item for moving and shifting in the box during transit.  The instapak packaging foam should be wrapped in anti-static packaging film to prevent the possibility of damage due to static electricity.  If you do not have a instapak packaging foam machine you will need to use packing material that is dense enough to hold the item in place inside the box during transit.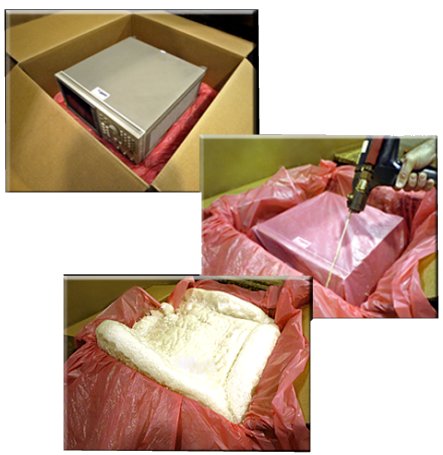 So what should be considered when choosing a carrier? Using UPS or Federal Express will reduce the chance of your equipment getting lost or damaged in transit.  For example UPS separates packages that are insured for $5000 or more from other lower value packages.  Using either of these carriers allows you to track your shipment door to door.  Insuring your shipment for replacement value will eliminate the risk of loss or damage assuming the item was packaged and labeled properly.  Insurance from the carrier typically cost .50 per $100.  So a $5,000 shipment will cost $25 to insure.  This is a small price to pay for peace of mind.
For international shipments DHL and FedEx have a worldwide presence and are preferred in many countries. Rates can vary based on each county, and the ease or difficulty of delivery to remote locations or isolated areas with limited infrastructure.
Many of our customer's rely on their freight forwarder of choice that arranges and organizes shipments of all sizes from origin to destination. Many freight forwarders have niche expertise by county or the type of goods to be shipped. They can also facilitate customs issues and expediting of problem situations that may arise when freight is in transit.
Regardless of the carrier you choose, we hope these tips help. The packing and shipping of test equipment should not be an obstacle to doing business, and is not a problem if done properly. If problems do arise, your carrier should be on your side. If equipment ever arrives damaged and there is a dispute, be sure to take pictures as that will help with any problem resolution.
The following two tabs change content below.
Mike is a finance industry executive with expertise in test, IT and avionics equipment acquisition, resale, residual valuation, leasing, renting and consignment.
Latest posts by Mike Novello (see all)