Rohde & Schwarz SMU200A Vector Signal Generator Product Review
The Rohde & Schwarz SMU200A is a powerful vector signal generator that is designed for a wide selection of applications in the research, development, and production of modern communications systems. It integrates two signal generators and delivers exceptional baseband and RF characteristics. The intelligent modular design of the SMU200A enables operators to adapt it to the unique requirements of their applications. It offers user-selectable upper frequency limits for its RF paths, enabling the user to choose an upper frequency limit that is best suited for their specific applications.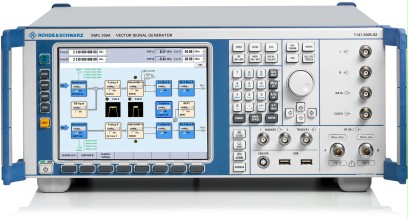 For the first RF path, the available upper frequency options are 6 GHz, 4 GHz, 3 GHz, or 2.2 GHz. The second RF path offers two upper frequency limit options of 3 GHz and 2.2 GHz. The SMU200A also has a lower frequency limit of 100 kHz for all frequency options.
Innovative Design and Performance
The baseband section of the Rohde & Schwarz SMU200A is capable of supporting two generators. They are designed to generate complex signals, and it is also possible to add signals from different basebands. The intuitive design of the vector signal generator assists operators to perform their testing exercises easily and quickly, all while providing the user with an outstanding signal quality. It features an I/Q modulator that offers an RF bandwidth of 200 MHz,  a –135 dBc SSB phase noise and a –153 dBc Wideband noise.
The Rohde & Schwarz SMU200A also has a +70 dB ACLR and an impressive repeatability of 0.05dB. It is capable of delivering an impressive output power of +19 dBm. The high-stability reference oscillator is featured in the SMU200A as a standard.
Learn more about Adjacent Channel Leakage Ratio (ACLR)
Feature Rich and Flexible
One of the impressive characteristics of this series is its unrivalled flexibility. The SMU200A baseband generator features a universal coder that is ideal for real time signal generation. In addition, its arbitrary waveform generator is designed to deliver 64 Msamples for both I and Q. The arbitrary waveform generator is supported by optional R&S WinIQSIM Simulation Software, and includes an optional fading simulator with 40 fading paths.
Download WinIQSIM Simulation Software here.
The intuitive design of the R & S SMU200A allows the technician to carry out complex testing exercises in a productive manner. Its 800 × 600 pixels color display enhances readability of results in different light settings, and features an intuitive user interface with block diagram which assists in accomplishing complex processes quickly and easily. The built-in transient recorder enables operators to view baseband signals easily in any environment. The signal generator also has  a context-sensitive help system that is very easy to work with. The <3 ms frequency setting time and 6 GHz electronic attenuator make the SMU200A an excellent solution for production applications.
Key Benefits and Features:
●    Waveform generator with up to 64 Msamples (56 Mbyte) for I and Q
●    Optional simulator ( 40 fading paths)
●    Easily change modulation via slot for GSM/EDGE
●    Real time 4 code channels (3GPP – FDD)
●    Short frequency set times when in list mode
For more information please contact Test Equipment Connection.
The following two tabs change content below.
Mike is a finance industry executive with expertise in test, IT and avionics equipment acquisition, resale, residual valuation, leasing, renting and consignment.
Latest posts by Mike Novello (see all)