Televes H30 software update – v1.19 Now Available
TECC is pleased to announce a new software upgrade for the Televes H30 Meter / Analyzer (v1.19). Please be sure to update your H30 to take advantage of the following new features: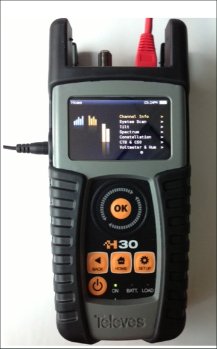 Test port compensation feature added, enter test port attenuation value up to 30dB.
Save datalog now allows the name to be edited before saving.
Logs saved from this version on are an Excel compatible format.
Minor bug fixes and stability improvements, including:
Speed Test freezing in some cases
Anomylous values occasionally in Learning Plan and System scan
Incorrect service type in Service Info in some cases
Improved connectivity test in Speed Test
Power saving improvements
You can easily update your meters by connecting them to the internet and following these instructions.
The following two tabs change content below.
Mike is a finance industry executive with expertise in test, IT and avionics equipment acquisition, resale, residual valuation, leasing, renting and consignment.
Latest posts by Mike Novello (see all)