Agilent E8491B Coaxial Fixed Attenuator Review
The Agilent E8491B is a Single Slot, C-size, message-based VXI module used to provide direct connection from users PC to a VXI mainframe.
In today's testing environment, reducing test times and increasing productivity is paramount. Technicians always prefer a device that is ease to configure or set up. The ability to configure the Agilent E8491B module quickly is given by the embedded "hot plug-in" capability, which is a mechanism that automatically recognizes new IEEE-1394-based device without the user shutting the PC down.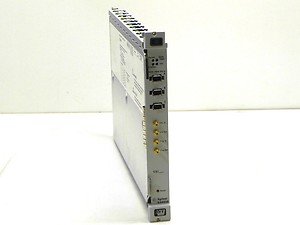 High Data Block Transfers
The Agilent E8491B module performs high-data block transfers up to 64kB.  It is extensively used in applications that require recording, editing, storing or transferring of large blocks of audio or video data. The connection cable supplied with the Agilent E8491B module is 4.5 meters with maximum data transfer of 14MB/second. The E8491B module is also equipped with 001 Option which is an OHCI-based IEEE-1394/PCI host adapter card. The adapter card is capable of transferring data at up to 400 Mbits/second, and can also supply 12V at up to 1.5A for IEEE-1394 instruments that need external power.
Learn more about Open Host Controller Interface (OHCI)
With many mainframe systems, the technician may be forced to supply each one of them with its own PC. This can prove to be very costly in the long run. Only one Agilent E8491B module needs to be installed into each mainframe, which can be interconnected via the cable in the users preferred configuration or test set up. Up to 16 mainframes can be supported from one PC. This can reduce the system cost significantly, making use of Agilent E8491B module a cost effective strategy.
Clock and Triggering Capabilities
The Agilent E8491B module also has clock and triggering capabilities, to both external devices or mainframes. The data is transmitted over one of the cables' twisted-pair sets, while the other twisted pair set is used for the clock. The clock is used in enabling asynchronous data transfer mechanism. The Agilent E8491B module can support asynchronous data transfers to secure equal access for each VXI mainframe. This capability solves data transfer and protocol conflicts that would otherwise delay the system processes.
The logical address of the E8491B module is 0, and it provides the system's resource manager functionality via software that is part of the Agilent I/O Libraries. The Agilent I/O Libraries provide the Agilent VISA and Agilent SICL software drivers for Windows 95/98/NT environments required to use the Agilent E8491B module.
Learn more about SICL (Standard Instrument Control Library).
The module is normally installed in mainframe slot 0 and it also supports 32-bit Interpreted CPI.
Key Specs and Features
●    Max SWR 1.2 – 8Ghz, 1.3 – 12.4 GHz, and 1.5 – 18 GHz
●    DC – 18 GHz Frequency Range
●    Max Input Power – 100 W peak, 2 W avg.
●    Type N female and male connectors
Please contact us for more information on this or other quality Agilent products.
The following two tabs change content below.
Mike is a finance industry executive with expertise in test, IT and avionics equipment acquisition, resale, residual valuation, leasing, renting and consignment.
Latest posts by Mike Novello (see all)