R&S CMS57 Radiocommunication Service Monitor Product Review
The Rohde & Schwarz CMS57 is a versatile Radio service monitor that is ideally suited for VHF Omnidirectional Radio Range (VOR), Instrument Landing System (ILS) and Marker Beacon (MB) transceiver testing. This quality tester features a receiver and a built-in generator that makes it an excellent choice for service, test and maintenance departments. It can adeptly operate like an analog receiver during transmitter testing, allowing demodulation of ILS, VOR, and MB signals.
The transmitter's power is attenuated because it is designed with a +13dBm RF input rating. The CMS57 includes a high-precision VOR/ILS generator that is ideal for receiver testing. The radiocommunication service tester finds many applications in the testing and maintenance of aeronautical radio-navigation signals.
Learn more about VHF omnidirectional range.
Wide Range of Test Applications
The R&S CMS57 excels when working with a wide range of transmitter/receiver testing applications. Its RF synthesizer supports applications in the 400kz-1 GHZ frequency range. In addition, the service tester supports automatic and SSB testing. It offers a resolution of 10 Hz and features Amplitude, Phase, Frequency, and Multitone modulation capabilities. The VOR/ILS signal generator integration makes this tester more powerful than its predecessors.
Learn more about Instrument landing system (ILS)
The radiocommunication service tester also comes with a wide range of measurement facilities. Its power meter is capable of reading values ranging between 5mW and 100W. It comes standard with a powerful RF frequency counter and RF spectrum monitor. The CMS57's spectrum monitor offers a wide dynamic range and special filters that support SSB, AM, and FM modulation analysis and is equipped with a  modulation meter. It also features adjacent-channel power meter that has standard ETSI filters.
Technicians can rapidly carry out measurements of different duplex spacings using the Duplex Modulation Meter of the R&S CMS57. The AF voltmeter will allow for both true and peak RMS weighting. In addition, it includes a SINAD meter that is modeled with a variable test frequency. Its distortion meter allows operators to perform measurements at different frequencies using its variable test frequency feature.
Many Features Suitable for Maintenance and Repair Shops
Other quality features for the CMS57 include a S/N meter, DTMF decoder, DC ammeter/voltmeter, selective-call decoder, AF frequency counter, CDCSS decoder, cable fault test capability, and a transient recorder for frequency and power transient analysis. Some of these functionalities come as optional features. This feature-rich radiocommunication service tester is an ideal choice for experts in the test, service, and maintenance departments.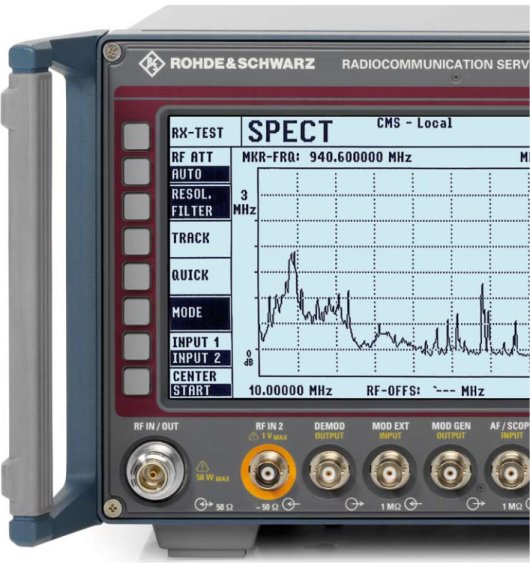 The tester also offers suitable filters that find applications in various testing and maintenance applications. These filters include CCITT, tunable band-pass filters, tunable notch filter, and low-pass and high-pass filters. The CMS57's 50 Hz-5 kHz tunable band-pass filter offers high skirt selectivity that makes it suitable for AF measurement and selective modulation. The 100 Hz-5 kHz tunable notch filter is suitable for signal suppression. Additionally, the large screen, LCD display is backlit, allowing the functions and test results to be read easily. Users can quickly enter reference and tolerance values, and make hard copies of screen displays from simple keyboard entry
Contact us for more information on the R & S CMS57 or for a custom quote.
The following two tabs change content below.
John Bahng
John is a Hong Kong based test equipment industry executive active in buying, selling and repositioning of surplus wireless test equipment assets for import and export. You can find him on
Google+
Latest posts by John Bahng (see all)