Teledyne LeCroy WaveRunner 6050A Oscilloscope Review
The LeCroy WaveRunner 6050A is a feature rich, all around oscilloscope that is optimized for demanding signal testing needs. It employs advanced acquisition technology, and combines an efficient interface with uncommon expanded capabilities. Providing users with a truly powerful testing solution, the 6050Ais well known for being an everyday use bench scope.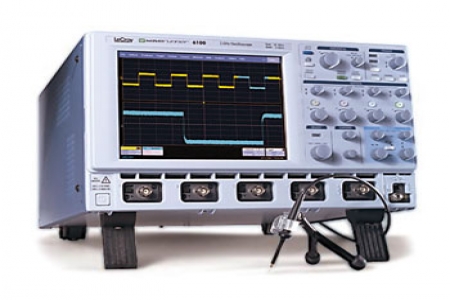 Offering a 500 MHz bandwidth and a 4 Mpts/Ch standard memory, the LeCroy WaveRunner 6050A capably delivers outstanding signal fidelity. The SiGe chipset that powers this bench scope makes it an ideal solution for capturing sharp edges and frequency transients. Apart from its impressive high sample rates, the 6050A oscilloscope's smart designs allows for a residual jitter of 2 ps and an ultra-stable clock of ±5 ppm.
Learn more about SiGe Chipsets here.
The LeCroy WaveRunner 6050A is powered by the open Windows OS. This platform allows operators to install Windows application software in their oscilloscopes for direct waveform analysis. The 6050A specifically offers 4 channels which allows the technician to sample at an impressive 5 GS/s rate on each channel. This is an impressive performance as compared to the rate offered by other conventional oscilloscopes.
Exceptional Test Flexibility
The 6050A model is also designed to exceed the Nyquist sampling rate. It incorporates a SMART Trigger feature that provides users with exceptional flexibility. The exclusion/inclusion feature is suitable for triggering signals that fall within or outside a specific range. Operators are quickly able to select multiple pulse widths and threshold levels for waveform viewing and measuring. The internal memory of the unit is capable of swiftly retaining thousands of captured events for later viewing.

View videos on Teledyne LeCroy WaveRunner oscilloscopes here.
The 800 x 600 pixels 6050A display delivers a quality user experience, and offers excellent resolution. To eliminate glitches and runts that may hinder readability, this bench scope has an intensity modulated display. This feature allows the user to vary the display intensity from 0–100%.
Easy to Use
In addition, the settings and the status of the LeCroy WaveRunner 6050A are easily shown using the descriptor labels. Its intuitive, easy to use interface enables operators to measure a wide selection of signals' timing characteristics easily and quickly. Other useful analysis tools that operators can easily access during testing exercises include histograms, math, and statistics. The oscilloscope features a volts/division control knob for each of its channels. This feature enables the technician to control its channels by simply turning the knobs. The 6050A also includes four zoom control knobs that allow operators to view the minute details of a signal.
The 6050A also incorporates the advanced XMath expanded analysis software. The software works with 40 specific parameter measurements and over 30 common math functions. The graphical interface of the XMath software allows for fast and easy connection of display icons and input source for extremely precise analysis and testing.
Key Features:
●    Advanced feature set combined with simple to use functionality
●    True 4 channel capabilities with a fully available 5 GS/s capability
●    Quickly locate specific characteristics and patterns with SMARTTrigger feature
●    Dedicated channel controls
●    Convenient front panel access and 5 included USB ports
Contact us for more information.
The following two tabs change content below.
John Bahng
John is a Hong Kong based test equipment industry executive active in buying, selling and repositioning of surplus wireless test equipment assets for import and export. You can find him on
Google+
Latest posts by John Bahng (see all)