The JDSU MTS-4000 Test Platform
The JDSU MTS-4000 is a scalable, handheld platform designed for today's testing needs. This high-performance Multiple Services Test Platform is known for being cost-effective, and comes in two field-replaceable modules. Its unique design enhances scalability makes it compatible with virtually most all technologies.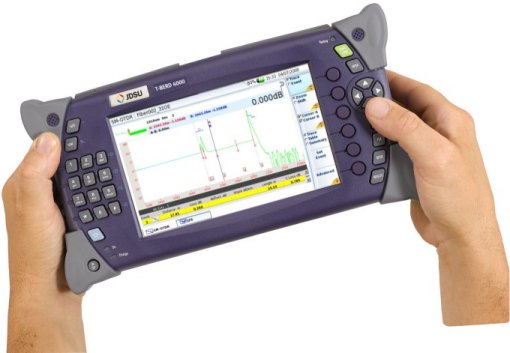 This MTS-4000 is specially modeled for the rapidly evolving access network technologies, and is ideal for troubleshooting and maintaining a multitude of high-performance communication systems. It works with applications in video-on-demand, high-speed internet, and high definition TV testing exercises. The platform incorporates USB and Ethernet ports to ensure fast data transfer.
Learn more about video on demand.
Handheld Platform
The dual-modular handheld platform has some of the best accuracy in its class. It features testing capabilities for copper, fiber, and triple play. It is multifunctional with upgradeable capably to expand with emerging technology applications. The platform integrates several test applications enabling operators to accomplish various exercises with just one test solution. Its multi layer testing capability is specially designed to speed turn-up and installation.
The MTS-4000 platform's easy-to-use, graphical user interface allows for easy operation with minimal training. Its large 7-inch screen enhances the user interface by providing a highly visible, easy to read display. Its color screen also includes a touch screen option. In addition, its high-capacity battery is suitable for outdoor field testing and allows technicians to perform in the field tests in remote settings with limited power.
Optical Test Functions
The JDSU MTS-4000 platform features a video inspection scope and optical test functions. The two features are optional, and the latter comes embedded as a built-in feature. The optical test functions include power meter, visual fault locator, and WiFi/Bluetooth interfaces. The WiFi, Bluetooth, USB, and high-speed Ethernet interfaces of the dual-modular handheld platform are smart designed to enhance connectivity. Its optional power meter is suitable for verifying signal presence. The large font display  allows users to read and interpret values easily whether in the laboratory or the field.
MTS-4000 platform's data reporting capability is solid and well suited for today's challenging testing environment. In addition, this scalable test solution also comes with automated testing capability. Its integrated browser is designed to offer users quick and productive testing experience.
The MTS-4000 is also very productive when testing both physical and service layers. For fiber testing, operators can use the handheld platform for the following testing applications: OTDR, PON/FTTH power meter, FiberComplete Automatic IL/ORL, Visual Fault Locator, CW light source, Connector inspection, and Broadband Power Meter. The dual-modular platform performs well with variety of copper testing applications. They include time domain reflectometer, wideband tones/spectal analysis, volt/ohm meter, and resistive fault locator. The platform also excels with Triple-play service testing including both VoIP and IPTV. Its basic and advanced testing offerings make this device an excellent choice for installing and maintaining a variety of modern networks.
Key Features
●    Durable and compact handheld platform
●    Easy to scale, replaceable modules
●    Comprehensive, Multi Layer Solution
●    Power meter, VFL, and video scope options
●    Easy to read 7 inch color display
Contact us for more information and to get a custom quote.
The following two tabs change content below.
John Bahng
John is a Hong Kong based test equipment industry executive active in buying, selling and repositioning of surplus wireless test equipment assets for import and export. You can find him on
Google+
Latest posts by John Bahng (see all)