Rohde & Schwarz FSH6 Product Review
The R&S FSH6 spectrum analyzer is a compact testing solution designed for frequencies up to 6 GHz. This durable handheld analyzer's feature set is widely used for installation and optimization of WLAN networks. The FSH6 is also an ideal tool for the maintenance of 802.11a WLAN networks, as well as various higher frequency range laboratory applications. It is an excellent choice for a variety of measurement and testing tasks both in the laboratory and the field.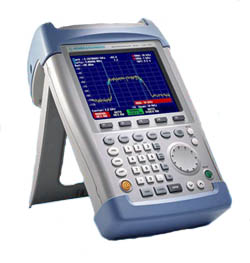 For field applications involving LO frequencies, the analyzer offers the technician many useful options. The FSH6 model features an optional tracking generator capability. Depending on applications, users can opt to include the tracking generator or use the analyzer without this component. The tracking generator is designed for a wide frequency range, 5 MHz-6 GHz. This component enhances the functionality enabling users to apply it for more testing applications. With a tracking generator included in the set-up, operators can apply the R&S FSH6 spectrum analyzer for scalar network analysis, distance-to-fault measurements, vector network analysis, and cable loss measurements.
Learn more about Scalar Network Analyzers
Portable and Rugged
For sensitive measurements, the R&S FSH6 excels and offers users a powerful analyzer in a portable package. Its adjustable preamplifier enables operators to carry out measurements precisely. In addition, the R&S FSH6 features a suitable dynamic large for both vector and scalar transmission measurements. For the scalar mode, the dynamic range of this spectrum analyzer is 80 dB. For vector measurements, it allows a dynamic range of up to 90 dB to be used. This feature makes it very suitable for measurements involving critical antenna isolation.
The R&S FSH6 spectrum analyzer features a powerful battery that can operate unchanged for up to four hours. The long operating time makes the equipment suitable for a wide range of measurement and testing exercises in the field. A four-hour operating time is possible when the equipment is working at room temperature and with the tracking generator in the off mode. The spectrum analyzer is also modeled to support external power sensors. Its transflective color LCD is designed to enhance the user interface.
View more R&S handheld base stations
The analyzer is also capable of outputting stored screenshots to a printing machine. An included RS-232-C interface is available for this purpose. A printer that supports the RS-232-C interface is directly connected to this spectrum analyzer via an optical interface cable. Operators can also easily change the baud rate for remote control applications.
Ease of Use
The FSH6 also excels when measuring various signal parameters. Operators can easily measure the frequency and level of sine wave signals, and store up to 256 setups or traces. Technicians are able to perform harmonic ratio and harmonic level measurements quickly with high precision by use of the marker functions.
If  needing a portable, quality spectrum analyzer with field proven results, consider the Rohde & Schwarz  FSH6. With its high measurement precision, advanced features and excellent battery life, it offers many premier RF characteristics in this class of analyzers.
Contact us for more info or with questions about your specific test equipment needs.
The following two tabs change content below.
John Bahng
John is a Hong Kong based test equipment industry executive active in buying, selling and repositioning of surplus wireless test equipment assets for import and export. You can find him on
Google+
Latest posts by John Bahng (see all)