Agilent 53131A Frequency Counter Review
The Agilent 53131A is a high-performance frequency counter designed for fast and accurate frequency measurements. The easy-to-use interface helps technicians to quickly carry out various measurements, and offers one-button access to functions that are frequently used. Its an excellent choice for improving productivity in today's testing laboratories.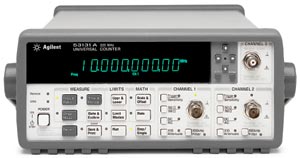 The 53131A counter is designed to offer higher resolution test and measurement. Unlike conventional counters, it gathers more data for each measurement within a short time. This counter also allows digital signal processing in real-time. By utilizing the powerful design features of this instrument, operators can easily analyze data and take new readings simultaneously. This ultimately speeds the measurement throughput.
Embedded Math Functions
The embedded math functions and built-in statistics on the 53131A allow users to track and measure min/max, average and standard deviation. The functions are also suitable for scaling measurements. It is easy to set the lower and upper limit of each measurement using the automated limit testing feature. Its analog display mode enables the technician to quickly verify whether the measurement falls within the desired limits. In addition, the counter is capable of flagging out-of-limit conditions. Users can also access up to 20 separate stored set-ups using a single keystroke.
View Frequency Limit Testing Using an Agilent 53131A
The standard GPIB interface makes the 53131A an ideal choice for computer-controlled systems applications. This feature is SCPI-compatible programmable and offers 200 measurements per second data transfer rate. In addition, this counter features a standard RS-232 interface suitable for transferring data to a computer or to a printer.
The 53131A universal counter provides the user with a 225 MHz bandwidth and a 500 ps time interval resolution. Its optional third channel allows measurements of frequency up to 3-GHz, 5-GHz, and 12.4-GHz. Some of the standard measurements that are available include period, frequency, time interval, ratio, rise/fall time, pulse width, duty cycle, phase angle, and peak voltage.
Software Enhancement
For measurement exercises that require precise time and frequency capturing, the 53131A excels. The IntuiLink software enhances the analysis of the data captured by this counter. It allows users to analyze, display, interpret, and document the data using familiar PC applications like Microsoft Word and Excel. With this software, operators can easily configure and perform a variety of tests from PC.
With the IntuiLink software, you are able to choose the desired display modes from histogram, real-time strip chart, table mode, and readout. It also allows configuration of measurement type, measurement speed, and number of readings. This software is also very convenient for scaling measurement data and copying it to different programs.
Learn more about IntuiLink Connectivity Software
Users can enhance the measurement accuracy of the 53131A counter by employing the optional timebases. These options are also suitable for enhancing the stability of the measurements. The smart features of the 53131A make it an excellent choice for a wide range of frequency measurement applications.
Key Features and Benefits
●    Easily measure frequency, time interval, rise-fall times, peak voltage and pulse width
●    150 or 500 ps interval resolution
●    Smart functionality: Embedded statistics, limit testing and math functions
●    Front panel access for measurement setups
Contact us for more information.
The following two tabs change content below.
John Bahng
John is a Hong Kong based test equipment industry executive active in buying, selling and repositioning of surplus wireless test equipment assets for import and export. You can find him on
Google+
Latest posts by John Bahng (see all)