Agilent N5230A Network Analyzer Review
The Agilent N5230A is a microwave network analyzer known for its speed and accuracy for general purpose testing applications. It includes various options that enable technicians to optimize tests for their specific testing needs. It features a 1.1 GHz CPU which contains a 1 GByte RAM and  is designed to accept many types of RF connectors, making it a very popular choice in its class.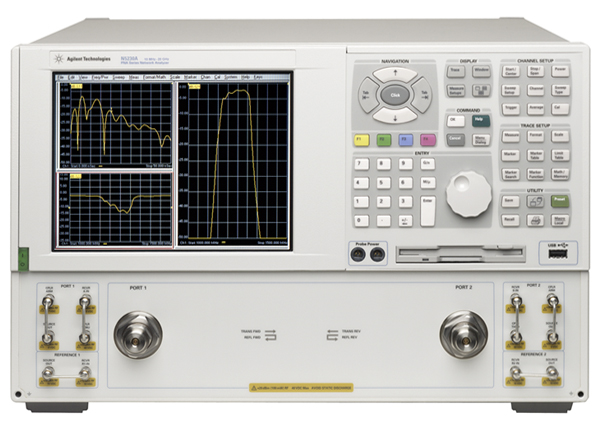 The N5230A's large color display enhances the user experience. The 8.4 in color-active matrix LCD provides users with an easy to read, full functioned interface. The wide display range, resolution range, and marker range enables users to analyze various network parameters with high precision. The nominal IF bandwidth for option 020/025, and  option 120/125 ranges between 1 Hz and 600 kHz. Nominal IF bandwidth for the Option 220/ 225, option 420/425 and option 520/525 varies between 1 Hz and 250 kHz.
Various Trigger Inputs and Outputs
The N5230A supports various trigger inputs/outputs. It is compatible with BNC, TTL, and CMOS.  It accepts 10 MHz reference-in via the BNC (female) and at an input level of –15 dBm to 20 dBm. This reference input has 200 ohm input impedance. Its 10 MHz reference output has 10 dBm level and 50 ohm output impedance. In addition, the N5230A includes a 15-pin mini D-Sub VGA Video output. This port is suitable for driving a wide range of VGA compatible monitors, and it features a Test set IO that finds applications in test set control.
The Aux IO of this microwave network analyzer allows users to carry out testing exercises on various analog and digital signals. Its 25-pin D-Sub connector allows analysis of a wide range of digital and analog inputs. Incorporated into the device are GPIB ports that are compatible with IEEE-488. This standard interface finds applications in various testing applications.
Learn more about the IEEE-488 interface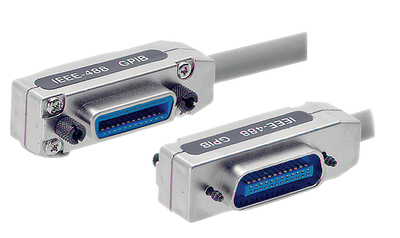 Five USB Ports
Technicians are able to easily couple this network analyzer with various devices during testing exercises. It is designed with five USB ports, four of which are located on the rear panel while one is positioned in the front panel. The N5230A's design is also optimized for testing applications involving LAN networks. Its 10/100BaseT Ethernet feature makes it possible for users to connect it to various devices for such applications.  It allows for the user to quickly perform auto-selecting between the two different data rates.
The N5230A microwave network analyzer can also capably operate throughout a wide temperature range. It is suitable for applications in the 0 °C to 40 °C range. Outside this range, the instrument may display error messages. The recommended storage temperature of the N5230A network analyzer ranges between –40 °C to +70 °C.
Learn more about intermodulation distortion.
Other key testing features of note include super fast measurement capabilities (under  4 – 9 µs) and lowered trace noise. It has a dynamic high range at 20 GHz to a max 108 dB. It has an embedded 2nd source for both swept and fixed- LO measuring of converters, mixers and (IMD) intermodulation distortion.
Contact us for more information or a quote.
The following two tabs change content below.
John Bahng
John is a Hong Kong based test equipment industry executive active in buying, selling and repositioning of surplus wireless test equipment assets for import and export. You can find him on
Google+
Latest posts by John Bahng (see all)