Agilent 8594E Spectrum Analyzer Review
The Agilent 8594E is a high-performance, portable spectrum analyzer that is designed to meet a variety of RF measurement needs. It features optional advanced capabilities, plug-in performance, and downloadable measurement personalities. This smart designed spectrum analyzer can quickly carry out a multitude of complex RF tests. The measurement personalities support a wide range of applications including component test, cable TV/broadcast, lightwave, electromagnetic compatibility, and wireless communications.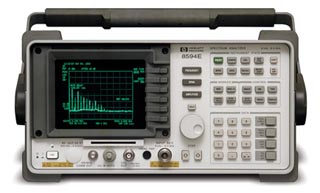 The easily configurable analyzer has a useful internal card cage that has a capacity of four cards. This feature is designed to enhance the measurement capabilities and its retrofittable options allow users to adapt the spectrum analyzer to their changing testing needs.
Variety of Options
The Agilent 8594E also allows for a variety of optional hardware configurations. It adeptly allows for separation of closely spaced signals for rapid RF analysis. The unit is also designed to allow operators to increase sensitivity appropriately when required. With this high-performance spectrum analyzer, it is easy to measure frequency, digital transmitter power, timing, and modulation. It features demodulators that are ideal for all cordless and cellular formats. Its quasi-peak detector is suitable for EMI pre-compliance testing.
Learn more about EMI in integrated circuits
The tracking generators of the Agilent 8594E are designed to allow testing of scalar parameters. Its amplitude flatness capability and group delay enable users to carry out link analysis on cables, satellites, and microwave radios. A software program is offered for each application. Its measurement personalities provide users with measurement routines, set ups, and an application-tailored user interface. The spectrum analyzer enables operators to choose specific measurement personalities from a wide selection.
Multiple Measurement Personalities
The Agilent 8594E features the following measurement personalities: Cable TV, Noise Figure, Digital Radio, RF Wireless Communications, Microwave Links, Broadcast TV, EMI pre-compliance, Lightwave, and Scalar Analysis. Agilent also offers customized personalities depending on the user's testing needs.
The benefits of using the Agilent 8594E are many, and its feature set is extremely technician friendly. The one-button measurement capability enables users to carry out various measurements quickly. It features demodulators that are engineered for most cordless and cellular formats. Its quasi-peak detector is suitable for EMI pre-compliance testing. The spectrum analyzer is engineered to allow high accuracy and repeatability. It gives reliable results that are operator independent. It supports remote programmable subroutines and this helps users to save coding time. With its easy-to-use features, operators require less training time to learn how to apply it for their testing assignments. The spectrum analyzer supports GPIB and RS-232 standards and capably handles a wide frequency range of 9 kHz to 2.9 GHz.
The Agilent 8594E also includes soft key menus and a zoom screen. The latter helps operators to focus easily on critical test data. It is a robust RF testing solution designed with unmatched resilience and toughness and excels in a variety of testing conditions. The advanced functions and built-in measurement tools on offer from Agilent help increase productivity and keep downtimes to a minimum.
Contact us for more information or to help suggest a custom solution to meet your testing requirements.
The following two tabs change content below.
John Bahng
John is a Hong Kong based test equipment industry executive active in buying, selling and repositioning of surplus wireless test equipment assets for import and export. You can find him on
Google+
Latest posts by John Bahng (see all)