Agilent 83620B Synthesized Swept Signal Generator Product Review
The Agilent 83620B is a synthesized swept-signal generator that is optimized for applications in the 0.01 – 20 GHz range. The popular 83620B model is ideal for a wide range of applications that require the accuracy and performance delivered by a synthesized source, and is also engineered to offer excellent phase noise and harmonic performance.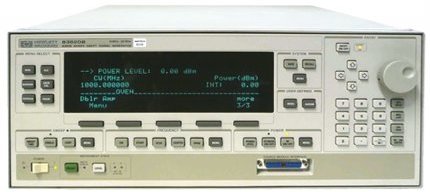 The 83620B synthesized sweeper is designed to provide a calibrated output power of +13 dBm at <20 GHz. The swept-signal generator also offers -50 dBc harmonics including a <-80 dBc SSB phase noise at 10 GHz. This value of SSB phase noise is achieved at a 10 kHz offset. Additionally, the Agilent 83620B is an excellent choice when used for the broad range of applications that require a complete analog sweeper. It is designed to support amplitude, frequency, and pulse modulation, and allows for a -110 dBm output power when it is coupled to a step attenuator.
Learn more about Phase Noise here.
This signal generator was also built to support step, ramp, and list sweep modes. For the testing of applications with narrow steps, the models provides for a 5 ms switching time. With Option 006, the 83620B is capable of offering a 10 ns rise time/fall time, and capably delivers a pulse level accuracy of ±0.5 dB. The 83620B was also engineered to offer impressive swept power accuracy. It combines this with other advanced technical features including an internal modulation generator that offers square, sine, ramp, triangular, and noise waveforms.
Fast and Powerful
Engineered to deliver the convenience and speed of a powerful sweep oscillator, the Agilent 83620B  combines excellent frequency resolution, modulation capabilities, level control, and signal purity. The versatility, precision, and flexibility when testing make it an ideal solution for antenna scan simulation, radar target return simulation, communication receiver testing, chirp radar signal simulation, and up/down frequency conversion. The synthesized swept-signal generator also works to allow customizations with fast pulse, 1Hz frequency resolution, blank front panel, and a synthesized internal-modulation generator for applications in automated testing.
Learn more about Chirp Radar Signals here.
The 83620B synthesized sweeper offers an upgradable design that facilitates future growth. Its modular architecture and softkey flexibility enhances upgradation while maintaining system compatibility. In addition, this synthesized swept-signal generator is compatible with vector and scalar network analyzers, millimeter-wave source modules, and noise figure systems. It can precisely single out instrument failures (up to 95%) with its 280 plus embedded self-tests. The troubleshooting options, calibration, and adjustment routines help reduce operator test times and reduce the requirements for additional equipment. It can easily perform power and voltage measurements internally providing quick and accurate adjustments when necessary.
For satellite communications applications, the 83620B offers high-modulation index FM and wideband FM. These features are suitable for telemetry tones and satellite communication traffic simulations. The 83620B adeptly delivers precision power control, minimum single-sideband phase noise, and user flatness correction. These features make this synthesized sweeper a excellent solution for measuring fidelity, compression, linearity, and out-of-channel tests.
Contact Test Equipment Connection for more information on this and other quality Agilent signal generators.
The following two tabs change content below.
John Bahng
John is a Hong Kong based test equipment industry executive active in buying, selling and repositioning of surplus wireless test equipment assets for import and export. You can find him on
Google+
Latest posts by John Bahng (see all)