Agilent 8902A Measuring Receiver Product Review
The Agilent 8902A is a high performance measurement receiver designed to allow users to carry out measurements with unmatched precision and resolution. This quality receiver offers exceptional digital power meter precision, and is suitable for measurements within the frequency range of 150 KHz-1.3 GHz. This result can be further enhanced by employing a microwave converter.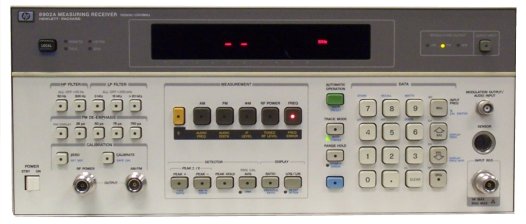 For measurements involving AM, FM and f M, the 8902A excels and is able to deliver highly accurate results. It specifically enables users to measure the residuals and incidentals associated with these signals. Combining the Agilent 8902A with 11793A enables professionals to measure RF signals with frequencies of up to 26.5 GHz. This combination achieves a resolution of 10 KHz and high frequency stability. Power measurement accuracy can be enhanced by using the 050 option. It is adept for a wide range of levels, covering a spectrum from +30dBm to -127dBm.
Learn more about Radio Frequencies here
Wide Bandwidth and Accuracy
For a frequency range 250 kHz-10 MHz, the Agilent 8902A allows FM measurement accuracy of ±2%. A measurement accuracy of ±1% is achievable for a frequency range 10 MHz to 1300MHz. By varying the rates for the range 10 MHz to1300 MHz, FM accuracy levels of ±1% to ±5% can be achieved.
The Agilent 8902A also allows technicians to receive high resolutions in their various testing exercises. With a maximum output sensitivity of 0.01mV/Hz, the measuring receiver will offer up to a maximum resolution of 100 Hz. Its demodulated output sensitivity increases with a decrease in resolution. For accurate peak reading measurements, it is necessary to factor peak residuals. Terminating a cable with its characteristic impedance enables users to achieve optimum flatness when carrying out measurements.
With a frequency range 10 MHz to 150 MHz, the measuring receiver is capable of achieving an AM accuracy of ±2%. By changing the rate, a different accuracy can be achieved for the same frequency range. Users can also use different frequency ranges. A ±3% flatness reading is obtained for both 10 MHz- 1300 MHz and 10 MHz- 26.5 GHz frequency ranges using a 90 Hz-10 KHz rate. For Phase Modulation, the Agilent 8902A allows accuracies of up to ±4%. The measuring receiver is therefore an ideal testing solution for measurements involving virtually all types of modulations.
Learn more about Phase Modulation
Frequency Counter Feature
The Agilent 8902A also features a powerful Frequency Counter that enables users to carry out different tests quickly and easily at a high accuracy and resolution. It also features a 10 MHz Internal Timebase Reference. Combining this test solution with the 11722A sensor module enables users to measure RF power ranging from -20dBm to +30dBm at a frequency range 100 kHz- 2.6 GHz. Similar measurements can also be carried out for the frequency range 50 MHz- 26.5 GHz by substituting the 11722A with the 11792A sensor module. The 8902A is also a suitable test solution for a wide range of radio testing exercises.
We carry a broad range of quality new and used measuring receivers in stock. Contact us for more information.
The following two tabs change content below.
John Bahng
John is a Hong Kong based test equipment industry executive active in buying, selling and repositioning of surplus wireless test equipment assets for import and export. You can find him on
Google+
Latest posts by John Bahng (see all)