The Agilent N4903B J-Bert Review
The Agilent N4903B Serial BERT tester is a rugged and compact test solution specifically designed for high precision testing tasks. This high performance BERT is ideal for characterization and a wide range of jitter tolerance tests. It is expertly designed with a small form factor, and can be used on the bench space and also to fit on the rack. It features solid  remote control-enabled  abilities and supports LAN, USB, and GPIB interfaces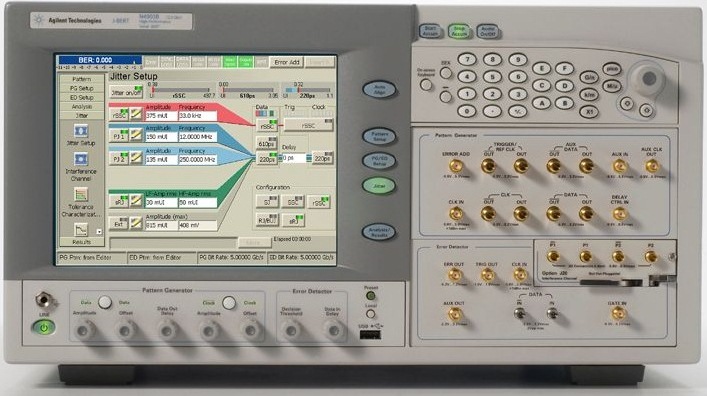 The J-BERT N4903B is designed to provide users with a suitable jitter tolerance test that is ideal for a variety of testing including specific forwarded clock devices. For testing exercises involving transceiver modules and stressing chips, the serial BERT stands out. It supports a variety of serial I/O ports which include 7 Gb/s, 12.5 Gb/s, and 14.2 Gb/s. The N4903B is capable of characterizing the jitter tolerance of a variety of receivers. It is also specially designed to comply with various serial bus standards.
Learn more about Bit Error Rate Testers (BERT)
Supports Most Bus Standards
Some of the popular bus standards that the equipment complies with include PCI Express, USB Super Speed, Thunderbolt, Memory Buses, XFP/XFI, SATA/SAS, MIPI M-PHY, Fibre Channel, Backplanes, 100GbE, DisplayPort, SD UHS-II, QPI, and 10GbE/XAUI. The model can capably perform a multitude of testing exercises with its advanced technology and design structure, which supports nearly all serial bus standards.
Learn more about Intel QuickPath Interconnect (QPI)
The pattern generator of the J-BERT N4903B features low jitter and incredibly fast transition times. Its clean signals enables the technician to rapidly achieve accurate characterization. Its calibrated jitter sources enable the user to carry out jitter tolerance testing with high accuracy. The built-in feature set is one of the industry's best. Apart from supporting various serial bus standards, the model offers pattern sequencer, reference clock outputs, differential I/Os, a variety of voltage levels, built-in jitter, bit recovery mode, and tunable CDR.
Sensitivity and Excellent Signal Performance
The enhanced jitter tolerance testing features of the J-BERT N4903B increase productivity and help reduce test times..It is an excellent long term investment, and is designed to support future upgrades and customized configurations. Apart from its extensive data rate ranges, the intelligent design will conveniently support a variety of clock topologies. It is ideal for forwarded clock, embedded clock and reference clock. This high performance test solution features enhanced sensitivity and excellent signal performance.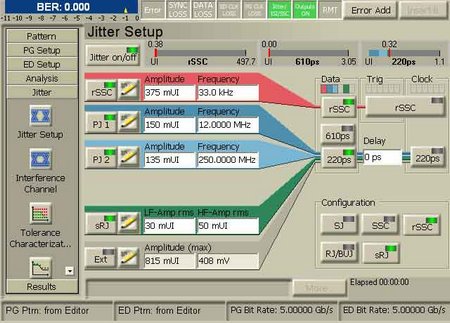 Additionally, the integrated jitter injection feature of the N4903B enables technicians to productively to carry out various jitter tolerance testing exercises. Some of the offerings include periodic jitter, bounded uncorrelated jitter, spread spectrum clocking, sinusoidal jitter, inter-symbol interference, and random jitter. The equipment also supports external jitter injection.
Specifications and Key Features
●    Can measure  BERT Scan, BER, TJ with separation, eye mask, eye diagram, BER contour, pattern capture,(FER) frame error rate, ,pattern capture, or (SER) symbol error rate  retimed and coded data streams
●    Superb signal  sensitivity and performance
●    Embedded data recovery with loop bandwidth and turntable
●    Half-rate clocking and a variable cycle for clocked devices
●    Twin adjustable data outputs including independent PRBS – pattern with 120 block  sequencer
The following two tabs change content below.
John Bahng
John is a Hong Kong based test equipment industry executive active in buying, selling and repositioning of surplus wireless test equipment assets for import and export. You can find him on
Google+
Latest posts by John Bahng (see all)