Spirent GSS6100 Product Review
Many times in the manufacturing environment, a single channel generator is the preferred means to guarantee a device meets specific or defined parameters when testing. The Spirent GSS6100 is a quality, single channel signal generator that was designed for production volume testing applications in manufacturing test settings for wireless devices that include a GPS L1 C/A code receiver.  Customers appreciate its proven track record and reliable performance. It is especially suited for the production line, making it an excellent solution for required work in these environments.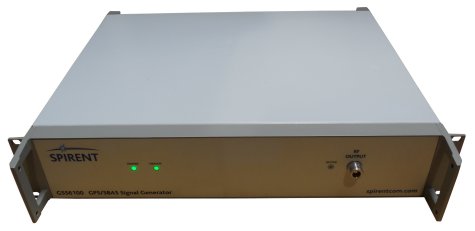 In certain instances, applications will have preference for single channel to stimulate a receiver in test mode. The technician can apply controlled GPS testing in these situations to meet any requirement needed, and can ensure proper assembly and verify performance with a defined range for specific RF input power levels.
Technicians are also able to take advantage of the advanced testing feature set of the GSS6100 in a variety of productive ways that result in increased results on the production line. Users can simply utilize the included SimCHAN software, several modes of operation, access remote control, as well as take advantage of integration with wireless emulators and test equipment. The flexible technology means operators can also productively make use of the GUI driven SimCHAN software for tests in any laboratory environments.
Download SimCHAN software here.
Increased Productivity Benefits
Customers will appreciate the different situations in which this model excels.  Spirent is well known in the industry and widely recognized for reliability and stability in everyday use. The Spirent GSS6100 offers several advanced features that can directly improve productivity. With this advanced feature set the user can easily integrate and work with a variety of instruments and ATE control systems. The in-rack calibration helps to keep downtimes and other disruptions to a minimum resulting in higher production and cost savings. Maintaining shipped device quality is easily achieved by using the controlled testing technology. Synchronization with other systems is made simple by either 1PPS/Trigger, standard output/input, or 1PPS output.
The GSS6100 is also compatible with the Spirent GSS4100 single channel simulator, and offers full support and integration with the unit. It also integrates an alternative operating mode, which from power-on can give continuous generation of predetermined parameters, and includes the conveniences of a standard 19" mounted rack setup. Overall the extensive capabilities of this model make it a perfect choice for any manufacturing setup.
Key Features and Uses
● Single channel GPS L1 C/A code
● Combines easily with available USB. RS232 and GBIB(IEEE488) control interfaces
● Instant -Start available  mode at power-on in combination with pre-determined parameter values
● With the SimCHAN PC software (included) – Instrument mode is accessible instead of GBIP (PC not included)
● Use specific test parameter control, including Doppler, GPS time and data, PRN, and power level
● Easily integrate with manufacturer test rigs with total control ICD
● L1SBAS support
● Lower downtime and disruptions with in the rack Calibration
Contact us for more information about this product or any of your manufacturing or related test equipment needs.
The following two tabs change content below.
John Bahng
John is a Hong Kong based test equipment industry executive active in buying, selling and repositioning of surplus wireless test equipment assets for import and export. You can find him on
Google+
Latest posts by John Bahng (see all)